4 days in Rome
Four days in Rome will be enough to discover the most important stops in the Italian capital, but you won't have time to waste. I'll help you get organised!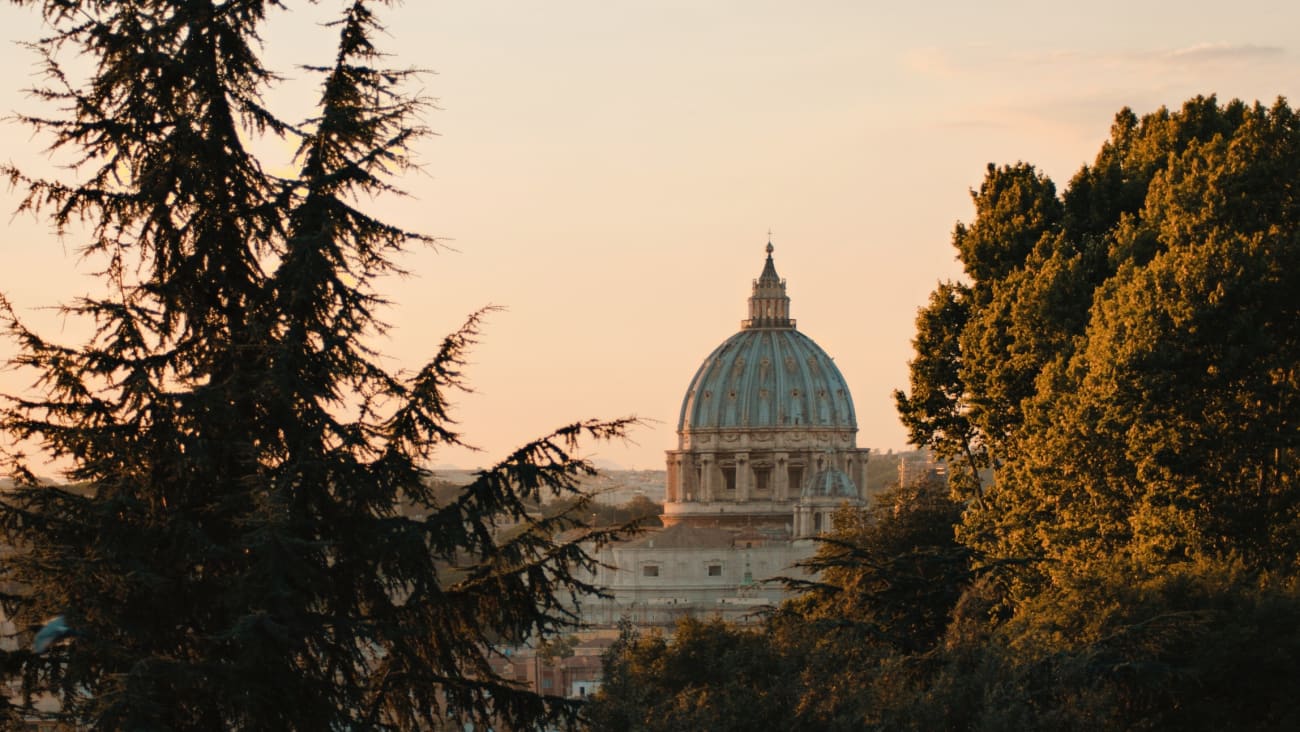 Four days in Rome is the perfect amount of time to see all the main monuments and squares and also discover its hidden places and lesser-visited corners.
On a two or three-day trip you're on a tight schedule, but on a four-day trip you'll be tempted (and not infrequently) to just pop into every pizzeria and gelateria you see and get your boots on. But you've got plenty of places to discover! Here's the perfect itinerary to spend four days in Rome without getting distracted. Or at least not at every turn.
Day 1: Admire the monuments of Ancient Rome and stroll through the Jewish Quarter
On your first day in Rome you'll see the city's most monumental sights, the impressive buildings that have been preserved from ancient times and take a stroll through the Jewish Quarter, one of the most interesting in Europe.
The Colosseum
How better to start your trip to Rome than by visiting one of the seven wonders of the world?
Inside the Colosseum you will see Ancient History in its purest form: the most important place of Roman public life in Imperial times, where free citizens exercised their right to entertain themselves, something that today seems even ahead of its time. Here gladiatorial combats took place in the arena and it is even possible that recreations of nautical battles took place.
With four days in Rome, you have time to wait in the queues to get into this iconic building, although I recommend you buy your Colosseum tickets online, as it saves you the queue at the ticket office and is one less thing to worry about. If you are particularly passionate about history, it might be a good idea to take a guided tour of the Colosseum, which also gives you the advantage of skipping the queue and discovering all the details about this place.
If you want to take the typical photo in front of the Colosseum, go up the stairs on the north side (on the left, just after leaving the Colosseo metro station) and there you will find a ledge that you will surely recognise instantly. For other tips on visiting the monument, I recommend you read the post 10 tips for visiting the Colosseum.
Roman Forum and Palatine Hill
This site, very close to the Colosseum, is an open-air museum of ruins from Ancient Rome. From senate houses to public squares, markets and palaces, this area is an archaeological and historical treasure trove.
You need a ticket to enter the site, but with your Colosseum ticket you can enter the Roman Forum for free. It is located on the Palatine Hill, one of the seven hills of Rome, and you have two ways to enter: either through the door next to the Colosseum, which usually has the longest queue, or through Via di San Gregorio, although for this you will have to turn around a bit. If you're not in a hurry, it's best to queue.
You can also do a combined tour of the Colosseum and the Roman Forum. Again, if you are passionate about the history of the Roman Empire it will be an exciting experience that will reveal all the secrets that at first glance you might not notice, but if not it is more than enough to walk around these ruins and imagine the day to day life in this city in ancient times.
If you have been left wanting to see more ruins of the Roman Empire, there are more forums in Rome where you can take a walk through history. The Imperial Forum, the Forum of Augustus and the Forum of Caesar are just a few examples, all within walking distance of the Roman Forum and free of charge.
Piazza del Campidoglio and Piazza Venezia
Piazza del Campidoglio is one of my favourite squares in Rome. Its oval shape, designed by none other than Michelangelo, and the beautiful buildings surrounding it make this square a special place to sit, relax and enjoy Rome for a while.
On Saturdays the square is full of newlyweds and people strolling around, and has quite a nice atmosphere.
On your way to Piazza del Campidoglio you'll pass through Piazza Venezia, with the impressive national monument to Victor Emmanuel II (or Altar of the Fatherland). You can get up close and admire it in detail and climb the stairs to enjoy the view of Rome.
Campo de' Fiori
A quarter of an hour walk from Piazza del Campidoglio you will find this lively square, very popular with tourists, where every morning except Sundays you will find a market with stalls of all kinds of food, fruit and vegetables and even bakeries.
On my last visit to Rome, what we did was buy a couple of salads, some cheese and bread and fruit for dessert at the market in Piazza Campo de' Fiori and had a picnic on a little bench in the shade. Another option is to continue to Largo di Torre Argentina and order takeaway at Mercerie on Via di S. Nicola de' Cesarini, 5, a very trendy place in Rome where you can order some delicious stuffed baskets to go.
Largo di Torre Argentina
This set of ru ins is visited for two very different reasons. It is the place where Julius Caesar was assassinated, so Largo di Torre Argentina is a top attraction for history buffs, but it is also a haven for stray cats, so if you love cats you must come here.
The ruins are located outdoors in the middle of a square and are the remains of several temples from ancient times, as well as what is left of the Curia of Pompey, the Roman Senate, where the famous assassination of the historical figure Julius Caesar took place.
Jewish Quarter
The Jewish Quarter is a very quiet place where you can breathe a different atmosphere from the rest of the city. Walking through its small streets you can reach the Great Synagogue of Rome, see the Teatro Marcello, the little brother of the Colosseum, admire the historic Portico of Octavia and visit the charming Piazza Mattei with its Fountain of the Turtles.
While you're there, I recommend you try the artichokes in Jewish style, a dish of fried artichokes very characteristic of this neighbourhood. For dinner, a very good place to eat, frequented by many locals, is Giggetto al Portico d'Ottavia, in Via del Portico D'Ottavia 21/a-22, where you can order the typical artichoke dish as well as excellent pasta and meat dishes.
Day two: Stroll through the historic centre and visit Rome's most famous sights
Piazza del Popolo
Piazza del Popolo is another of my favourite places in Rome, with the Flaminio Obelisk in the centre (originally located in the Circus Maximus)
Besides its three churches, Santa Maria dei Miracoli, Santa Maria in Montesanto and the Church of Santa Maria del Popolo, all of which are worth at least entering, next to Piazza del Popolo is the Pincio Terrace where you can climb up for a nice view of the square and Rome.
Borghese Gallery
From the Piazza del Popolo you are just a short walk through the Borghese Gardens to the art gallery of the same name, the Borghese Gallery, which houses one of the most important collections of pictorial art in all of Italy.
Housed in a former palace, the Borghese Gallery is absolutely stunning and well worth a visit, especially if you have a passion for art. You can see paintings by Caravaggio, Raphael, and Titian, among other masters.
It's best to buy your tickets online for the Borghese Gallery, to make sure you don't miss out and save yourself the queue to buy them.
Piazza di Spagna
After the visit to the Borghese Gallery, the rest of the day will take you to the most emblematic places in Rome and the must-see sights of this trip.
We start with the famous Piazza di Spagna, whose staircase, full of flowers in summer, is always full of people. The staircase is dominated by the beautiful church of Trinità dei Monti and in the square is the emblematic Fontana della Barcaccia. This square was a place of worship for the romantic poets Keats and Percy Shelley, in fact, in the square itself is Keats' residence which is now a museum.
Trevi Fountain
You cannot leave Rome without visiting the Trevi Fountain: it is the most impressive and beautiful fountain in Rome and probably in the whole world. It has an unparalleled beauty and the allegory of the taming of the sea that serves as the basis for this creation will undoubtedly mesmerise you.
Whether it is for its majestic beauty, for having served as an iconic setting in 'La Dolce Vita' or for the tradition of throwing coins into the water, you will find a huge crowd of people at this fountain. So it might be a good idea to return either at dawn or after midnight, two magical times when you'll find far fewer people and can enjoy the essence of the Trevi Fountain in all its splendour. One of the most beautiful fountains in Rome that you cannot miss.
If you are going to throw a coin in the water, remember the tradition: you should do it with your right hand on your left shoulder, and throw one coin to go back to Rome, two coins to find love in Italy and three coins to invoke good luck in your marriage or divorce.
Sciarra Gallery
Just a 5-minute walk from the Trevi Fountain is this gallery with a small courtyard where you can see Art Nouveau frescoes and take a break from the crowds, as it is not well known to tourists. It's one of those secret places in Rome that you'll love to discover on your trip - make a note in your diary!
The Pantheon
The Pantheon, today known as the church of Santa Maria Rotonda, is a place full of mystery: preserved since Antiquity, it survived the incursions of the barbarians and in the 7th century it became an important Catholic temple.
Personally, I consider it one of the most essential places of any visit to Rome, to marvel at it both inside and out, where an almost magical atmosphere reigns due to the oculus of the great dome that lets the sunlight shine inside. Here, you can see the tombs of several Roman monarchs and the tomb of the artist Raphael, as well as mosaics and sculptures with a special glow.
Piazza Navona
One of the most beautiful and popular squares in Rome since ancient times, when this space was Domitian's stadium, Piazza Navona is an ancient place whose current beauty is due in large part to the Baroque-era renovations that created the square's three fountains and the church of Sant'Agnese in Agone.
It is definitely worth a visit on a four-day itinerary in Rome, where you can sit down for a coffee, relax and enjoy the atmosphere.
Castel Sant'Angelo
A walk from Piazza Navona to Castel Sant'Angelo will take you through the historic centre and onto the Ponte Sant'Angelo, one of Rome's most beautiful bridges, which leads to Castel Sant'Angelo.
Its construction dates back to the 2nd century, when Emperor Hadrian ordered Castel Sant'Angelo to be erected as a mausoleum for his family. Throughout its almost two thousand years of history, this building has served as a tomb, as a fortress for the Pope in case of attack, as a castle and, nowadays, as a museum.
You can visit Hadrian's mausoleum inside and tour the papal flats and look out over Rome from the defensive bastions, where the cannons still rest. To prepare for your visit, I recommend you read this article in which I tell you everything you need to know: Rome Castel Sant'Angelo Tickets: how to buy, prices and schedules.
Day 3: Marvel at the grandeur of the Vatican and enjoy the afternoon in Trastevere
Vatican Museums
The Vatican Museums are an artistic treasure trove of gems such as the Sistine Chapel, the Hall of Maps, the Vatican Picture Gallery and many more rooms that, in my opinion, are a must-see on a 4-day trip to Rome.
Forget about trying to go to the Vatican Museums without having prepared in advance: you will need to buy your tickets for the Vatican Museums or take the official Vatican tour, which, besides skipping the queue, will give you an unparalleled experience in which you will learn the history of this place and what you will see there.
The best thing to do for this visit is to go as early in the morning as possible, even if your budget allows it, I recommend taking a guided tour first thing in the morning so you can enter the Vatican before it opens to the public and tour its rooms in a small group, without having to endure the masses of visitors that flock to this museum every day. You won't regret the early start when you get to the Sistine Chapel, as you'll be able to see it at your leisure.
When planning your itinerary, bear in mind that the Vatican Museums are closed on Sundays, except for the last day of each month (which I don't recommend at all, as admission is free and the queues are indescribable). From Monday to Saturday, the opening hours are from 9:00 to 16:00.
St. Peter's Basilica
St. Peter 's Basilica is, without a doubt, the most impressive church I have seen in all my travels. Just the spectacle that rises up in front of you as you enter Piazza San Pietro is one of the most unforgettable images of your entire trip to Rome, but inside you are treated to a work of art that you can walk around and feel, and if that wasn't enough you can climb the dome of the basilica and admire the whole of Rome at your feet.
Entrance to St Peter's Basilica is free but you will have to queue, which is not a big problem on a four day trip. Actually, the queue moves quite fast even if it looks like it doesn't. But why wait in line?
But why wait in line? You have the option of taking a guided tour of St Peter's Basilica, again with an official Vatican guide.
Pay special attention to the Baldacchino, Michelangelo's Pieta, the tomb of Alexander VII and the Vatican Grottoes, which is the most impressive part of St Peter's Basilica, along with the ascent to the dome, which you can see inside up close and out, with the city of Rome stretching towards the skyline as a backdrop.
By the way, Wednesdays are a bad day to visit St Peter's Basilica: it doesn't open until 1pm to allow for the papal audience, the blessing offered by the Pope himself to the faithful gathered in the square. On Sundays the Basilica is closed to the public all day.
Also, please note that St. Peter's Basilica has a dress code that you must adhere to, as for all other Catholic places of worship in Rome and the Vatican: shoulders and knees must be covered, which means wearing long trousers and a jumper or scarf.
Trastevere
Trastevere is one of the most beautiful neighbourhoods in Rome and will give you a very genuine feeling as you walk along its cobbled streets. Here you'll find the typical shuttered windows, colourful buildings and vines hanging from every corner.
Stroll along the Tiber to Isola Tiberina and discover its surroundings, stroll through the charming Piazza di Santa Maria and enter the Basilica di Santa Maria in Trastevere to admire its golden mosaics, one of Rome' s most striking churches.
From Villa Farnesina, it's a 20-minute walk to Piazza di Santa Maria in Trastevere.
Gianicolo viewpoint
To end the day, you have the option of relaxing with a glass of wine and a slice of pizza in Trastevere (I recommend trying the delicious pizza at Ai Marmi, Viale di Trastevere, 53-59). Or...you can climb the Janiculum to enjoy the sunset over Rome, which is about a 15-minute walk from Piazza di Santa Maria in Trastevere.
Take some snacks and drinks with you and sit on a bench to enjoy the view and the cool evening air. You can always return to Trastevere afterwards and enjoy the rest of the evening.
Day 4: Testaccio and a hidden part of Rome
Pyramid of Gaius Cestius
Would you have guessed that you can see a pyramid in Rome? Yes, and one that is magnificently preserved from ancient times.
This is the Pyramid of Gaius Cestius, a Roman magistrate who ordered it built to house his burial chamber, in the style of the pyramids of Egypt.
You can see it just outside the Piramide metro stop on the B line, but the best view is from Rome's non-Catholic Cemetery, the next stop on your itinerary on your last day in Rome.
Non-Catholic Cemetery
This beautiful pagan cemetery is unique in the city of Rome, and it's even shocking to find something like this in a city so relevant to Catholicism. The poets Percy Shelley and John Keats, who as you know were in love with baroque Rome, are buried here.
It is a very peaceful place with a lovely atmosphere from where you can see the Pyramid of Caius Cestius in all its splendour. It is also a haven for stray cats, and you will see many wandering among the gravestones in the cemetery.
Testaccio Market and Piazza Testaccio
The Testaccio Market, unlike Campo de' Fiori, is much more local and authentic, so you'll find far fewer tourists who don't make it a priority on a trip to Rome.
Testaccio Market has everything from clothes, shoes and antiques stalls, and of course plenty of food stalls where I recommend you try some of **Rome'**s delicacies.
Also take a stroll around Piazza Testaccio, which is much less crowded than Rome's main squares, and take a rest before heading to one of the city's most impressive monuments: the Circus Maximus.
Circus Maximus
Although this is not an essential visit on the itinerary, while in the area you can take the opportunity to stroll around the Circus Maximus, Rome's first stadium where the famous chariot races were held. In the area there are still some ruins of the palaces that were built around this place.
Today it is a park where you can see the remains of antiquity and imagine what the spectacles that took place here would have been like. And now that you've cleared your mind from a day full of sightseeing, get ready to discover one of the most special places in all of Rome.
The Orange Garden and the Lock of the Knights of Malta
On the Aventine Hill, one of Rome's hills south of the city, there is a place called the Giardino degli Aranci, or Garden of Oranges. Originally an orchard of Dominican monks, it is now a park where you can find a gate with a keyhole through which you can see the dome of St. Peter's Basilica in miniature.
It is a very beautiful and unique experience, and actually looking through the keyhole is just an excuse to stroll through the orange groves and enjoy the scent, especially on a summer afternoon.
I recommend going up here an hour before sunset, even if it means reducing the time you spend on the previous visits: it is, without a doubt, the best way to end your trip to Rome and one of the most striking and beautiful views of the city.