Milan Hop on Hop off Bus Tours
Touring Milan by tourist bus can be a great option: whether you have little time in the city or you're just looking for a pleasant stroll through the streets while you rest and still enjoy the sights, don't rule it out!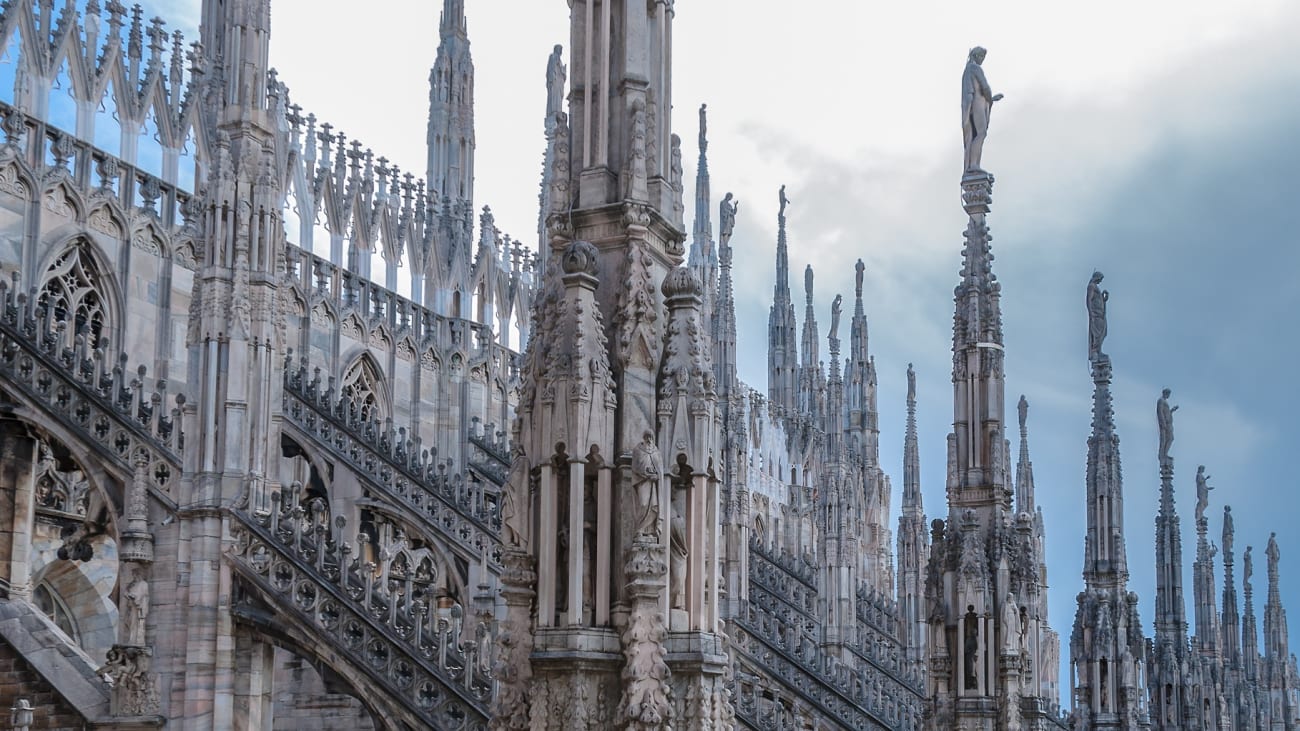 Milan is the second largest city in Italy, after Rome, although its city centre, where the main places of interest are located, has less than 1.3 million inhabitants. Its tourist bus is an ideal means of transport to move around all its monuments, museums and most important sites comfortably.
Sightseeing bus with free stops to discover Milan
The most practical way to visit Milan, especially if you have little time or it is your first trip to this industrial city, is with this Milan sightseeing bus From £24
Thanks to it, you will be able to see the elegant Milan comfortably seated and from the heights of a double-decker bus with open roof. You can take the full tour or use the tourist bus as a means of transport that, through 3 different routes and more than 30 stops, will take you in the fastest and easiest way to all the tourist sites of the city.
What's included in your ticket
3 different but interconnected bus routes with more than 30 combined stops.
Unlimited hop on and hop off
24 or 48 hour ticket.
Discounts at some restaurants and attractions in Milan.
Free Wi-Fi on the bus
Free mobile application "Sightseeing Experience".
Adapted for wheelchair users
Accessible for pushchairs
Flexibility of payment and free cancellation if made at least 24 hours before the bus booking date
Milan Sightseeing Bus Line A (red)
The duration of the complete circuit is 90 minutes from Monday to Thursday and 35 minutes from Friday to Sunday. Some of its main points of interest are:
Milan Duomo (the Cathedral)
The main point of interest of the city of Milan is this imposing gothic Cathedral located in the heart of the city and which is one of the largest catholic temples in the world.
Castello Sforzesco
This 14th century castle-fortress is one of the most emblematic buildings in Milan and houses a large number of museums, including some of the best in the city, such as its art gallery with more than 1,500 works, its Egyptian gallery and its gallery of ancient and prehistoric art.
Teatro alla Scala
L'Scala is one of the most famous theatres in the world for having been the setting for some of the most famous operas in history, such as Verdi's Otello and Nabucco and Puccini's Madame Butterfly. Its sober façade hides a theatre of great beauty, with a museum inside that can be visited.
Milan Tourist Bus Line B (blue)
The complete tour las ts 90 minutes from Monday to Friday and 30 minutes on Saturdays and Sundays. Some of the main points of interest are:
Palazzo Lombardia skyscraper
This is the most important viewpoint in Milan, located on the 161.3 metre high skyscraper that forms part of this complex of public buildings that serves as the headquarters of the Regional Government of Lombardy.
Porta Venezia
This is one of the city's historic gates leading into this district of Milan where you will find the Civic Museum of Natural History of Milan and its collection of fossils and minerals and the Galleria d'Arte Moderna, an 18th century palace exhibiting European art.
Church of Santa Maria delle Grazie
A must-see on a trip to Milan, this is the Dominican convent where you can see the famous 'Last Supper' fresco by Renaissance genius Leonardo da Vinci. If you want to dedicate more time to this visit (in my opinion, you should), I recommend you to consult my article on Da Vinci's The Last Supper Tickets and Tours in Milan with everything you need to know to organise it.
Milan Sightseeing Bus Line C (green)
Some of its main points of interest are:
San Siro football stadium
A must-see for football lovers, this stadium opened in 1926 with a capacity of 80,018 spectators is the largest in Italy and is classified as an "elite stadium" by UEFA, which allows it to host European finals.
Monumental Cemetery
This is one of the most surprising places in Milan and a visit to the Monumental Cemetery is highly recommended. An authentic open-air museum of more than 250,000 square metres where the remains of illustrious historical figures rest among Italian sculptures, obelisks, Greek temples and even a small-scale replica of Trajan's Column.
Other places of interest to visit on the Milan Sightseeing Bus
What you've seen above isn't all. If you open your eyes wide, you can see almost all of Milan from the bus, including sights such as:
Duomo di Milano
Teatro Alla Scala
Porta Venezia
Brera District
Monumental Cemetery
Castello Sforzesco
Porta Ticinese
Stadio Giuseppe Meazza (San Siro)
The Cenacolo
La Triennale di Milano
Basilica of Sant'Ambrogio
Piazza San Babila Fountain
Parco Papa Giovanni Paolo II (Park of the Basilicas)
Sempione Park
Milano Centrale
MiCo Milano Congressi
Civic Aquarium
Corso Buenos Aires
Corso Como
Other activities of interest
If you are organising your trip to Milan, one of the main recommendations I can give you is to book your tickets to visit the Duomo in advance. Being one of the most emblematic places in the city, there are usually very long queues at the entrance, which will make you desperate and tired when you get to the roof. Here is an article about Milan Duomo Tickets and Tours: how to buy and prices so that you can organise your visit in good time.