How to Visit the Notre-Dame Cathedral in Paris
One of the most impressive and characteristic postcards of Paris is Notre Dame Cathedral. Find out everything you need to know before scheduling your visit to this iconic landmark.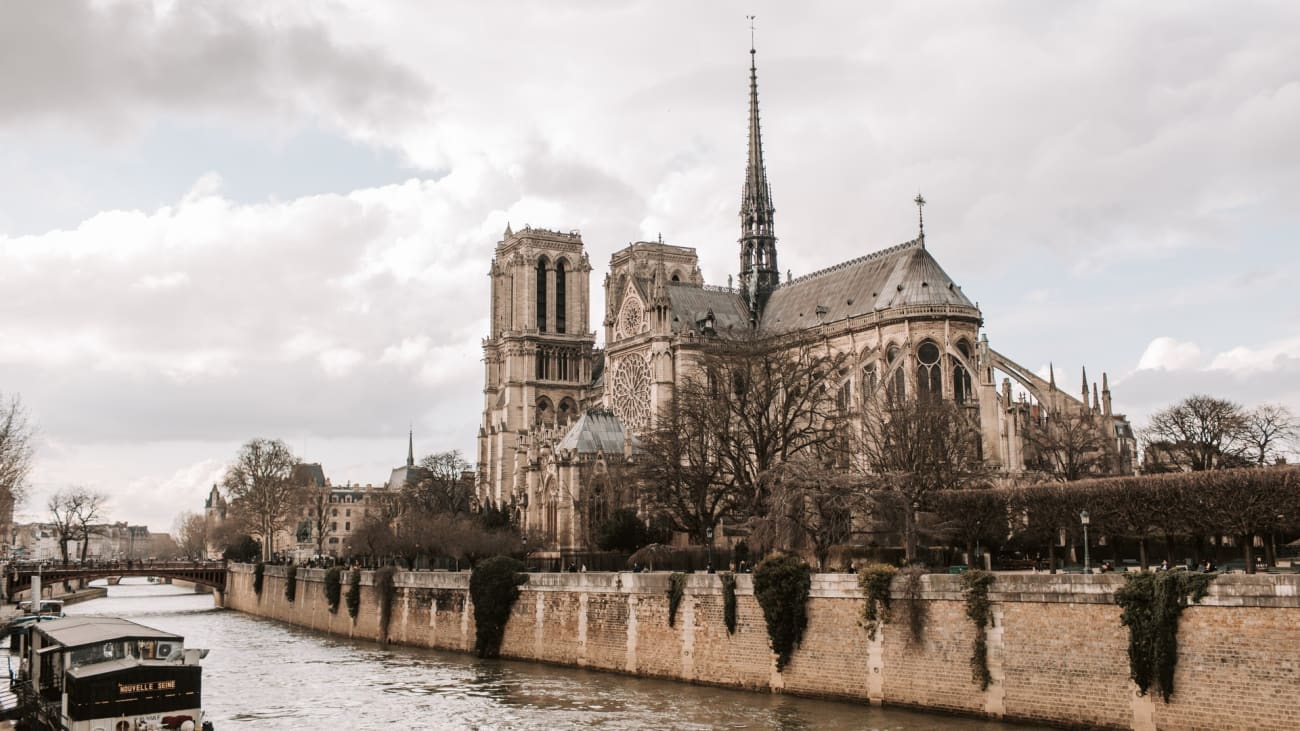 Notre Dame has for centuries been one of the high points not only of religion, but of architecture in Europe. Since it was built in 1163, it has undergone major modifications until the recent fire that occurred just a few years ago.
However, this cathedral dedicated to the Virgin Mary has managed to survive all kinds of catastrophes and, if you are thinking of visiting it as one of the essential activities to do in Paris, here is a detailed guide to everything you need to know to visit Notre Dame and learn about its curiosities.
How to get your ticket to Notre Dame Cathedral
Notre Dame is one of the most visited places by all the tourists who come to visit the capital of France. However, you should know that since 2019, the cathedral is closed and under restoration due to the damage suffered by a large part of the structure in the fire.
Before that, the entrance could be bought both at the ticket office and in advance online and it was free of charge. In addition, you could get two types of tickets to access the top of the towers and its spectacular crypt for between €4 and €9. But, unfortunately, during its reconstruction all these activities have been temporarily closed.
The reopening is announced for mid 2024, when it is estimated that all the reconstruction and restoration work will be completed and it will be possible to visit it again. Also, you should know that the Paris Pass covers all entrances so if you get one of these tourist vouchers on your trip to Paris, full entry to Notre Dame will be free.
Notre Dame opening hours
Notre Dame has been closed since 2019 and for the next few years it will be impossible to visit the inside of the cathedral or even get close to it, as there is a security perimeter around the cathedral which makes access impossible.
Before the disgrace, Notre Dame had opening hours that allowed tourists to have many opportunities to see it and, in case you need some guidance for the future, you should know that the opening hours changed depending on the season.
In addition, during the warmer months, i.e. July and August, there were also night visits where you could see the spectacular illumination of all the stained glass windows and rose windows and also enjoy the views of Paris by night and love by night. However, to bring back all these sights, you will have to wait a while.
How to get to Notre Dame
Notre Dame is located in one of the most central areas of the city, so getting there should not be too difficult. However, it is true that Paris is a huge city and you may find it difficult to find your way around at first. The cathedral is located exactly at number 6 Parvis Notre-Dame, next to Place Jean-Paul II.
There are three main means of transport to get there; the metro, the bus and the Parisian railway, also called RER.
By metro
Getting around Paris by metro is fairly easy and quick, and Notre Dame station is literally next to the cathedral, making it one of the most convenient and efficient ways to get around. Just take the purple line 4 and get off at the Cité station.
By bus
The bus is another alternative if you want to get around Paris and enjoy the views outside. There are several buses that go to Notre Dame and the surrounding area. You'll need to check which one is closest to where you are to catch it at the appropriate stop, but the main ones are the 21, 38, 47, 85 and 96.
RER Railway
The RER is a fairly efficient third way to get around the city and has the added advantage of having a stop dedicated to Notre Dame. Just take the B or C line and get off at the Saint-Michel - Notre-Dame stop.
Are there guided tours of Notre Dame and is it worth it?
Due to its temporary closure, there is no way to get inside the cathedral, or even to get a close-up view of the façade, as the cathedral is surrounded by a security perimeter during its reconstruction.
Fortunately, during this time virtual tours have been created thanks to virtual reality technologies with which you can get a very close idea of what the cathedral was like before the tragedy and get to know every corner of it.
These tours are usually quite inexpensive and come with day passes so you can easily fit them into one of your sightseeing days in Paris.
The parts of Notre Dame that you can see
Notre Dame has been off-limits since the fire of 2019, yet one of its greatest attractions still stands, which you can enjoy without even getting close; its exterior façade.
You may never have been inside, or even been to Paris, but the façade of Notre Dame is something we've all seen at some point in our lives whether in books, films or documentaries, and no wonder. The exterior of Notre Dame is a testament to the enormous architectural prodigy that was begun in 1163 but reached its peak in the 19th century.
With a west façade that serves as the base of the Latin cross silver, impressive flying buttresses that have kept it standing all these years and its distinctive gargoyles, Notre Dame and its impeccable baroque are already a joy to behold with just a glimpse of its exterior.
What to do around Notre Dame
If you're coming to Paris soon, you may be looking forward to seeing Notre Dame from the inside. However, let me tell you that there are still several things you can do from the outside that go beyond just looking at the monument from afar. Remember that you are in one of the most central and beautiful neighbourhoods in Paris, so these are just some of the things you can spend the day doing:
Best places to take pictures
Although you can't get too close to the cathedral due to the security perimeter to take detailed photos of the impressive façade, you can go to strategic spots to get the best perspective of Notre Dame.
My recommendation is to go to the other side of the Seine, from where you will have two strategic spots. One is on the right in the Jardin Jean XXIII, a few steps from the main façade, where you can photograph the impressive buttresses that are still standing. The other, on Île St Louis, offers a rather alternative rear view, mixing greenery with the purest baroque style.
Visit the famous Shakespeare and Company bookshop
One of the obligatory stops in the vicinity of Notre Dame is a bookshop that has become very famous over the years due to its aesthetics, which seems to have set it in time. It is the Shakespeare and Company bookshop, a place specialising in British literature with an old façade that attracts thousands of tourists every day.
Discover the Saint Michel fountain
Strolling near Notre Dame, you can get up close and personal, just a few steps from the cathedral, with the Saint Michel fountain, an impressive stone sculpture designed by Haussmann that represents the struggle of good against evil through the archangel Michael and the devil. The fountain is also the gateway to the Latin Quarter.
Where to eat near Notre Dame
If you are passing through Notre Dame and don't know where to stay for lunch in Paris, you should know that in this area of Paris there are two quite famous places, one of them for being one of the oldest restaurants and the other for having a close relationship with the Notre Dame cathedral and its history.
Au Vieux Paris
Just walking around the outside is quite impressive, as it has a façade full of greenery and antique shops that will catch your eye. Inside, it is also one of the oldest restaurants in the city.
Located on one of the corners near the cathedral, on Rue Chanoinnesse, Au Vieux Paris is an establishment that has been open since 1594 and offers a menu full of typical French cuisine. Without a doubt, it is a charming place to eat something delicious during your visit to Notre Dame.
Le Quasimodo de Notre Dame
If you want your visit to Notre Dame to be full of nods to the monument, I recommend you go for lunch or dinner at the restaurant called Le Quasimodo de Notre Dame, named after the famous character by Victor Hugo.
This place has a great reputation throughout Paris not only for having an incredible themed decoration inside, but also for offering typical French dishes at a very affordable price.
Is it advisable to go to Notre Dame with children?
You may think that sometimes travelling to Paris with children can be a bit complicated due to the large repertoire of museums and monuments to see. Children tend to be impatient and are not very interested in large, dark and silent halls.
However, in the case of Notre Dame, you have won some ground, as Disney has been working for years to place this incredible cathedral in the children's imagination. During your visit, you will be able to see first-hand what was once the home of the endearing Quasimodo and you will be able to see up close the famous gargoyles that appeared in the cartoon film.
Undoubtedly a different vision from the one you may have as an adult but which does nothing more than encourage adults and children to enjoy a visit to this beautiful place.
Tips for visiting Notre Dame Cathedral
Visiting Notre Dame Cathedral is one of the must-see sights of Paris at any time of the year. It may be closed for a while, but there are some basic tips to make your visit more comfortable when it reopens its doors to the public and leave you with an indelible memory of this World Heritage Monument.
Better in low season
Don't forget that you are in one of the most touristy cities in the world and visiting one of its greatest attractions, so if you want to avoid the long queues and crowds, the best thing to do is to choose the dates of your trip to Paris in the low season so that your visit to Notre Dame and the rest of the city is quieter and more "intimate". These dates tend to be around the months of October to March.
Get your bearings with a guided tour
If you want to be well informed during your visit to Notre Dame about everything you are seeing and the importance of the ground you are walking on, I recommend that you either ask for an audio guide to learn about the history of the most important points of the cathedral, or hire a guided tour by a professional.
Dress moderately
Don't forget that you are entering a church and, although Western countries are becoming more and more flexible, you may not be allowed to enter if you are wearing very short trousers or skirts, low-cut necklines and bare shoulders. If you're travelling to Paris in summer, you can simply choose to drape a scarf over your head during your visit.
Try to arrive early
Notre Dame has two days a week during the summer months with extended opening hours until 11pm to enjoy a beautiful sunset. However, the rest of the year I recommend you get there as early as possible. This way you will be among the first to enter, avoiding queues to get in and, above all, without giving time for large crowds to build up inside.
Don't miss the opportunity to see first-hand the splendour of Notre Dame, a place that has survived wars, revolutions, monarchies and even recent fires. An architectural marvel that has witnessed the passing of the centuries and is waiting for you in Paris with open arms.