Visiting Versailles with Children
Visiting Versailles with children requires a certain amount of preparation due to the vastness of the space and the cultural and historical focus it presents.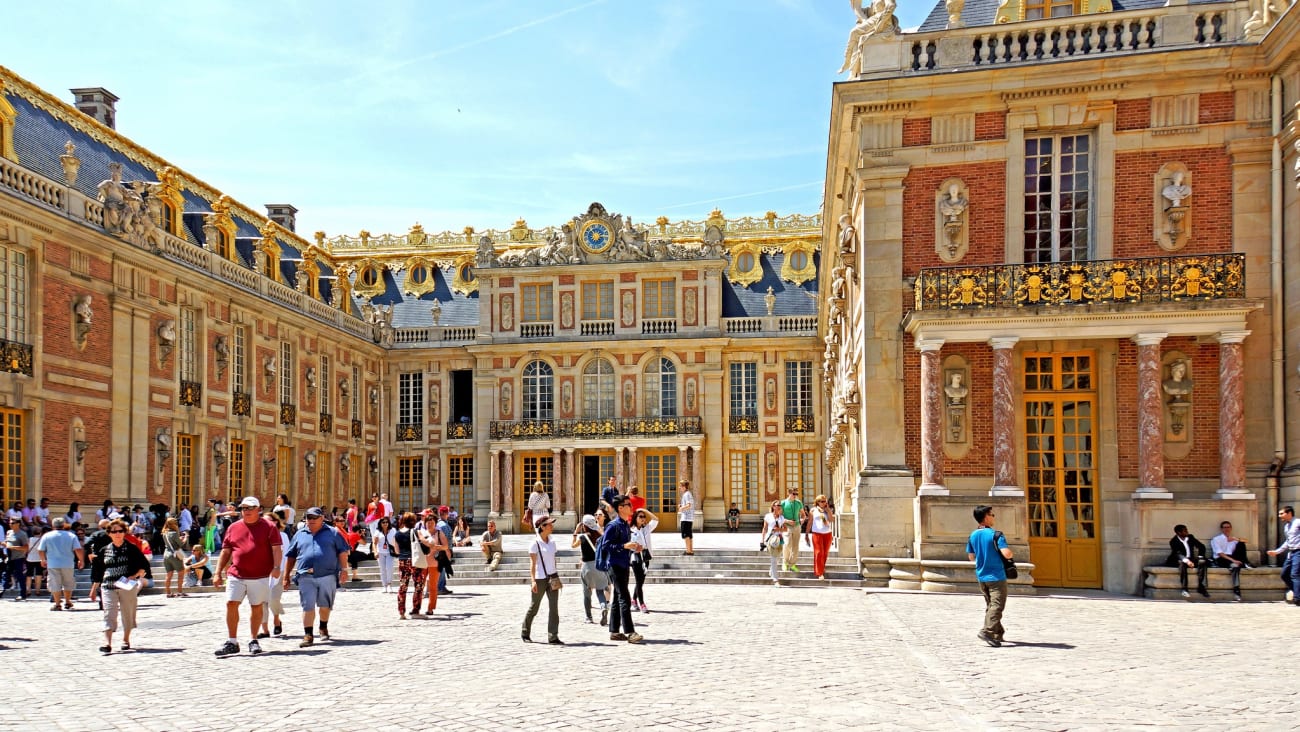 Versailles is undoubtedly one of the most special places in Europe. Any adult who appreciates history and culture will enjoy it like a child. However, it is not always possible for a child to enjoy Versailles as an adult. This is due to the characteristics of the site, which is very large and can take hours to visit.
Versailles is also a must-see for its culture and history. Two elements that adults may be enchanted by, but which children may find boring or uninteresting. In this article I'll give you 10 tips to make your visit with them as optimal and comfortable as possible, and above all to ensure that both they and you enjoy it equally!
Book a guided tour of the Palace so the kids won't be bored
The Palace of Versailles is the treasure chest of the best French art. Renowned architects, sculptors and painters gave their best to decorate the residence of the kings of France. However, exploring its rooms can be overwhelming without context and information. This can be boring for adults, but even more so for children!
Moreover, a visit to the Palace of Versailles can easily last between 1.5 and 2 hours. It is therefore advisable to make it as entertaining as possible. It is therefore a good idea to book a guided tour with a guide who specialises in English. Their explanations and anecdotes will make the visit more bearable and the children will also be able to learn. However, visiting it is going to take time. That is why I recommend that, regardless of the type of tour you choose, you consult these tips to make the most of your visit to Versailles.
There are two types of guided tours, which I will now explain in detail.
Tours without transfer from Paris: These are tours that will provide you with an English-speaking guide once you arrive there on your own. They usually also include admission to the palace.
Tours with transfer from Paris: These are recommended because they are more convenient for travelling with children. They usually consist of buses that leave from the Eiffel Tower and take you directly to Versailles. Opting for public transport (either a conventional bus or the train) can be boring for children because of the possible transfers.
Keep the kids from getting impatient in long lines
As you can imagine, Versailles is one of France's most visited tourist attractions. As a result, there are huge queues which, no joke, can be as long as a couple of hundred people. To avoid queues and children getting impatient, it's best to book a tour that includes admission.
That is, if you prefer to visit Versailles on your own. As I mentioned in the previous point, if you book a guided tour, the entrance fee is often already included in the price.
Choose the best way to get to Versailles
Few things make children more impatient than long, boring journeys. And few things are more annoying for adults than uncomfortable transport with prams in tow, among other inconveniences.
It is therefore advisable to decide how you are going to get to Versailles. If you hire a tour that includes transfer from Paris and admission, everything is taken care of. However, if you go on your own, you will have to strike a balance between the comfort of the journey and its simplicity.
Below I show you the available means of transport and evaluate them according to these two criteria. Although if you want more detailed information, you can find out how to get to Versailles from Paris in this article.
Bus
You can use line 171 which leaves from Pont de Sèvres. The journey takes around 30 minutes and leaves you very close to the Palace of Versailles. They run every 10 minutes or so and are active between 0:10 and 23:50.
The bus can be a little uncomfortable if you are travelling with a pram. The best thing is that it drops you off very close to the Palace, so you won't have to add extra walking time to your journey. However, if you're staying far from Pont de Sèvres, you'll have to take other forms of transport, which will make the whole journey a bit more cumbersome and time-consuming.
Train
If you opt for the train, the best option is to take line C of the RER train. The journey takes 30 minutes and from €4 it will drop you off at Versailles Rive Gauche station. Check all the details on timetables and frequencies on the RER line C website.
This is the most convenient option if you're planning to bring a pram. The drawback, although not very serious, is that it does not leave you exactly in the grounds of the Palace of Versailles, but only 10 minutes away. You will have to walk.
Hire a car
Probably the least difficult, whichever way you look at it. However, you should bear in mind that parking in Versailles comes with a parking fee available from €12.
Opt for a morning visit
Versailles covers an area of almost 800 hectares. That means that, if you're planning a full visit, you'll spend about half a day there. This is, more or less, the time you will need to visit its main attractions:
Palace of Versailles: between 1.5 and 2 hours;
Walk through the Gardens of Versailles: 2 hours;
Visit to the Grand Trianon, Petit Trianon and the Queen's Village: 1 hour.
The average time to visit the Gardens of Versailles depends, of course, on how long you want to spend in its vast areas. Here you can find out what to see in the Gardens of Versailles.
Therefore, if you are travelling with children, I recommend that you go in the morning and that you coincide those 5 hours with lunchtime. If you are going on your own, it will be very useful to know all the details about how to buy tickets to visit Versailles.
What time does Versailles open? Well, it depends on the place:
Palace of Versailles and palace buildings: from 9am;
Gardens of Versailles: from 8am.
This way, you can do the maths for whatever is most convenient for you. If you arrive at 9 am, you will finish your visit just at lunchtime (around 2 pm). If you arrive at 8am, you can start seeing the gardens and finish the whole tour by 1pm.
There are restaurants on the grounds where you can get something to eat. There are even picnic areas, so there is no need to return to Paris on an empty stomach.
For more information on opening times, find details on the opening hours of the different attractions in Versailles here.
Go to the toilet before entering the Palace of Versailles
Who hasn't been there? You're peacefully visiting a museum or monument and suddenly the kids have an overwhelming urge to go to the toilet. To avoid this unwelcome urge, it's always a good idea for them to go to the toilet before starting the visit. Especially because, as you can see, there are many things to see at the Palace of Versailles.
There are toilets at the entrance, next to the ticket offices and in the cloakrooms. There are also toilets scattered throughout the gardens. These are usually less crowded than those at the Palace of Versailles. Here you can check the locations of the toilets at Versailles.
Bring a cloth baby carrier if you are going to enter the Palace of Versailles
For safety reasons aimed at optimal evacuation in the event of an emergency, pushchairs and metal baby carriers are not allowed inside the Palace of Versailles. It is therefore recommended that you take a cloth baby carrier with you, which is totally permitted.
However, this doesn't mean that you can't go to Versailles without a pushchair - it can be very useful for exploring the gardens! All you have to do is leave it in the cloakroom once you decide to enter the Palace.
Explore fairytale Versailles with the kids
The fact that Versailles is a palatial and very "stuffy" environment does not mean that there are no places where children can feel like they are in a fairytale setting. This is especially true in the Queen's Village. A place that Marie-Antoinette had built for her recreation.
It has various attractions, such as English gardens (which imitate nature) and a lake with marquees and pike. She also had 12 wooden cabins built in Flemish and Norman style, which children will think are straight out of a fairy tale.
It is right next to the Petit Trianon, so don't hesitate to go there with the kids. They'll have a wonderful time.
Bring a backpack with you with food and drinks
You are allowed to bring a rucksack into Versailles. You can take a snack and a drink in it, in case the kids get hungry. Nevertheless, the gardens of Versailles are full of kiosks and places to buy food. For more information on these, see where to eat in Versailles here.
However, it never hurts to arrive at Versailles well stocked just in case. In fact, there are areas set aside for picnics. These are:
Amuse them with a train ride
What child doesn't love a ride on a little train? Moreover, given the vast size of Versailles, it can be a good way to discover the surroundings without tiring them out. There is a tourist train, called Train Versailles, which you can use in these cases. The route is quite complete and passes through the Palace, the Petit Trianon, the Grand Trianon and the head of the Grand Canal. The timetable is as follows:
From 1 November to 31 March: First departure at 11.10am and last departure at 5.10pm;
From 1 April to 31 October: Same timetable except for the last departure, which is at 5.50pm.
The tour can be accompanied by an audio guide in 10 languages. An audio guide is available for an extra €4. The ticket is available from €7.50 (adults), from €5.80 (under 18s) and free for children under 12. It's perfect!
Keep an eye on the kids
Versailles is a place built for the comforts of absolute kings, but it is not without its risks. We recommend that you be especially vigilant in the following contexts:
Inside the palace: With the number of visitors and the number of rooms, it is not uncommon to lose sight of children. Particularly if we are immersed in the contemplation of a beautiful painting or in the explanation of the audio guide.
On the garden paths: Although everything in Versailles is reasonably safe, you should keep a close eye on your children as you stroll along the paths and lanes. Vehicles such as the tourist train mentioned above are common. But there are also motorised trolleys available for quick visits to the gardens. You can find out which stops the tourist train makes here:. This way you won't have to keep your eyes peeled at every step you take in the gardens.
Around ponds and lakes: Versailles is a place full of fountains, lakes, canals and ponds. It is easy to become absorbed in the beauty of the surroundings and lose sight of the little ones for a few seconds. And we know how they are, they tend to get into all the puddles, never better said. You should therefore be extremely vigilant in these surroundings.
If you take all these tips into account, you can be sure that your visit to Versailles with children will be as comfortable as possible, and that they, like you, will enjoy the experience just as much!