Tickets to the Palace of Versailles: ticket types, prices, how to avoid queues, etc.
The Palace of Versailles is one of those places that surpasses the limits of the imagination. The luxury, art, history and culture of its rooms and gardens make it a must-see.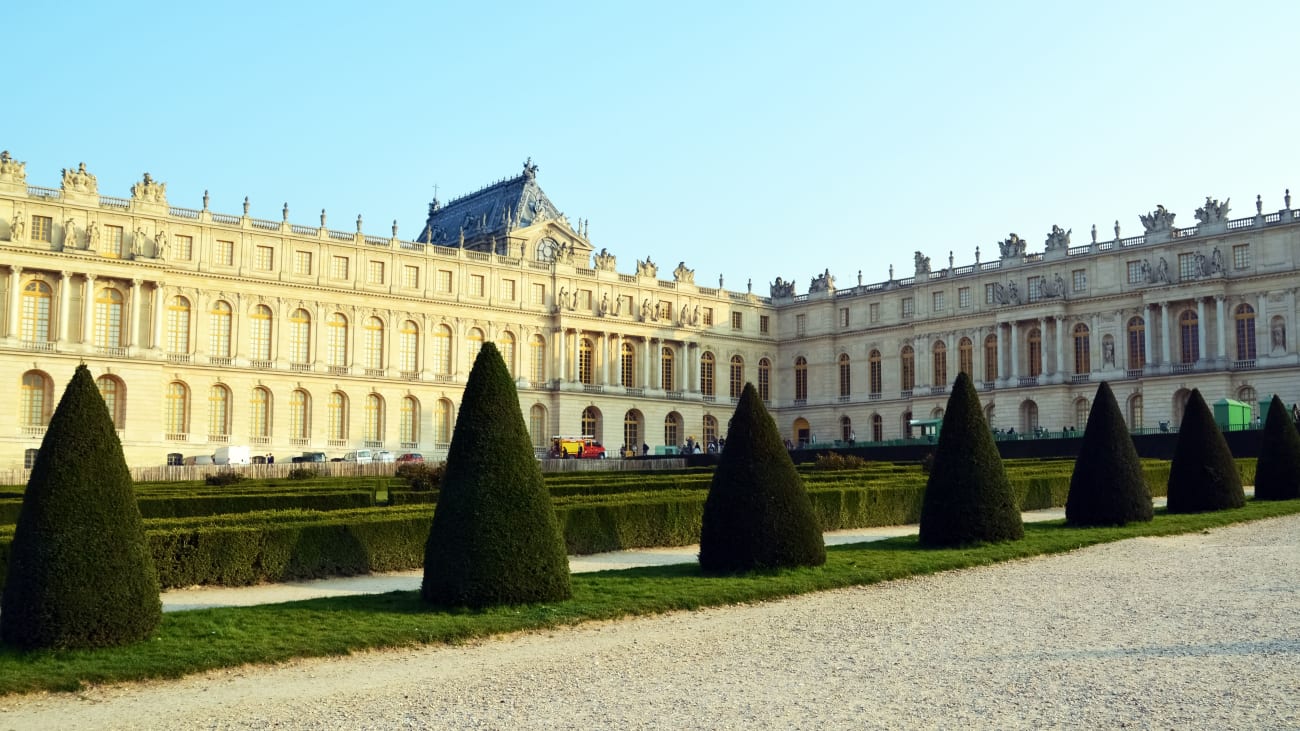 Just 25 kilometres from Paris, Louis XIV ordered the renovation of an old hunting lodge which, over the years, became what we know today as the Palace of Versailles. The setting for many period films, this place is not the result of fiction, but of centuries and centuries of history in which the figure of Marie Antoinette stands out.
I'm sure you already know this, but don't hesitate to buy your ticket to Versailles. With it you will be entering a world where art, culture and nature go hand in hand. There are many secrets hidden in what were once the royal apartments and its immense gardens, but with a well-organised visit nothing will escape you.
The fastest
Get your ticket to the Palace of Versailles without the queues
Want to make the most of every moment of your visit to Versailles? With this ticket you can skip the line, get priority access and have much more time to explore the Palace and the Gardens.
Do you hate queuing up as much as I do? If you don't want to waste valuable time waiting in a long queue at the entrance to Versailles, I recommend you take the priority access ticket. With it, you will enter the Palace, the gardens and Marie-Antoinette's estate without delay, with the sole task of admiring and understanding the paintings, tapestries, mirrors, fountains, sculptures... In short, all the art that makes Versailles a World Heritage Site.
Is it really necessary? Believe me, when you get to Versailles the last thing you'll want to do is queue at the ticket office and then at the general entrance. With this ticket to Versailles, which you can buy in advance, you'll save almost two hours of waiting.
Recommended if... You want to avoid long queues and waiting to make the most of your visit to Versailles.
How much do tickets to the Palace of Versailles cost?
General and full entry to Versailles costs approximately 22€ for adults. However, if you are under 18, have an EU passport and are under 25, have purchased a Paris Pass or Paris Museum Pass, or are visiting on the first Sunday of the months between November and March, you are in luck because entry is free.
However, these tickets only include access to the Palace, the Gardens, the Domaine de Trianon (the palace that Louis XIV had built), the Park and the temporary exhibitions.
Don't want to visit all that? There are cheaper ticket options to visit just the Palace (about €20) or the Domaine de Trianon (about €12). Access to the Gardens is always free, unless there is a musical lighting of the fountains of Versailles(Grandes Eaux Musicales).
My advice is not to wait to buy tickets at the ticket office, as you may have to wait for a long time. To avoid this, I recommend you buy your tickets in advance and choose the specific time slot you want to go, this will save you time.
Versailles is a huge and spectacular place, you don't want to waste time queuing!
Is it worth taking a guided tour of Versailles?
Yes, a guided tour of Versailles is highly recommended. The Palace and Gardens are so immense that the best way to visit them is with a guided tour. This way you are sure to see the main sights and also understand every piece of art and history that surrounds you.
Although you can visit Versailles on your own, visiting with a guide is an investment in culture and also in your experience. I'm sure you've often come back from a visit not quite knowing what you've seen. Believe me, you won't want to go back to Paris with that feeling, but with the certainty of having seen every last corner of Versailles.
Moreover, by buying your ticket and booking your tour in advance, you avoid queuing at the ticket office and you'll be able to enjoy your visit from the very first minute.
How to buy tickets to the Palace of Versailles at the ticket office
It's easy! The ticket offices are located to the left of the Cour d'Honneur, which welcomes visitors to Versailles. There you can buy general admission tickets. The wait is about 40 minutes and the price is around €27. If you want to avoid queues, I recommend buying them in advance. This way you won't have to wait your turn at the ticket office and you'll save almost an extra hour in line.
If you only want to buy a ticket to the Domaine de Trianon to visit the accommodation built by Louis XIV and later enjoyed by Marie Antoinette, you should go to the palace's ticket desks.
Once you buy your ticket at any of the ticket offices, you'll have to go to Access A and wait there for about an hour, as it tends to get very crowded. If you want to save yourself that wait too, make sure you book a priority access ticket (through Gate B), where the queue is always faster (about 20 minutes wait).
If I have bought a Paris Sightseeing Pass, do I get the tickets to Versailles included?
Yes, the Paris Pass or Paris Museum Pass includes entry to the Palace and Gardens of Versailles. These passes are a great option if you want to save queuing and secure entry to the vast majority of Paris's tourist attractions.
Both options are a great idea to not only visit the Palace of Versailles without long waits, but also have the opportunity to enter other museums in the French capital, such as the Louvre.
The Paris Pass is priced from €109 (depending on how many days you want it for) and as well as the pass to museums and Paris landmarks, it also includes a transport card to get you around the city freely.
The Paris Museum Pass, from around €48, is the perfect pass if you're a museum lover and there are a few on your list of things to do in Paris. In most Parisian museums there is a specific queue, much faster than the general queue, for those who have this tourist pass.
How to get to the Palace of Versailles from Paris
Versailles is a must-see if you're travelling to the French capital, so there are many connections to get there easily from Paris. The fastest and cheapest option is undoubtedly the regional train (RER), which takes around half an hour and costs around €4 each way, although there are other options, such as private transport or a car.
The latter two options are more exclusive, as you don't have to keep an eye on timetables and they drop you off directly at the entrance to Versailles, with no stops in between. However, the price is somewhat higher.
Organised tours to Versailles
If you are visiting Paris and want to forget about finding transport to Versailles, the most convenient way is to take one of the organised excursions from Paris to Versailles. As it is a very visited monument, all kinds of tours are organised to get there, some of which include a guided tour of the Palace and Gardens, for around 100 euros. A highly recommended option.
Opening hours of the Palace of Versailles
Before arriving at Versailles, it is important to check the opening hours, as they vary depending on the time of year and not all areas are open at the same times or every day.
From 1 April to 31 October the Palace is open from Tuesday to Sunday from 9am to 6.30pm and the Gardens every day from 8am to 8.30pm.
From 1 November to 31 March the Palace is open from Tuesday to Sunday from 9am to 5.30pm and the Gardens every day from 8am to 6pm.
In addition, I recommend that you make a note of the times when, during spring and summer weekends, a beautiful show is held in the fountains of the Gardens, where lights, water and music will set the rhythm of your visit. You can check the timetable and the days when the lights are switched on on the official website.
How much time do I need to visit the Palace and Gardens of Versailles?
There is never enough time to see Versailles in its entirety, but I recommend that you at least set aside a full day. When planning your trip to Versailles you should be aware that, if you haven't bought your ticket in advance or booked a tour, you will need about 2 hours to queue at the ticket office and gain access. Once you get in, my advice is to spend the rest of the morning at the Palace and, after lunch, stroll around the Gardens until it's time to return to Paris.
You'll also need to account for the time it takes to get there and back, which is approximately 40 minutes each way. Although it may seem like a long time to spend a whole day of your trip to Paris just at Versailles, I can assure you that you'll want to come back a second time to see all that's left.
All the things you can't miss during your visit to Versailles
The list of wonders you will find during your trip to Versailles is long. The luxury, culture, nature and history hidden in the Palace and the Gardens will leave you open-mouthed. What not to miss during your visit?
There is no doubt that touring the royal chambers of the Palace of Versailles will give you an idea of the luxury and wealth enjoyed by the French court during the time of Louis XVI and Marie-Antoinette, but you must also visit the Hall of Mirrors, where the Treaty of Versailles was signed, the document that put an end to the First World War.
It is clear that the inside of the Palace is a great museum, but you will see that the art continues when you go outside to stroll through its gardens, not only because of the vegetation, but also because of its sculptures and fountains.
Is visiting the Palace of Versailles with children a good idea?
I am not going to deceive you, the day can be a long one for the youngest members of the family, although both the Palace and the Gardens are suitable for everyone, even if you go to Versailles with children.
If you will allow me to make a recommendation, organise the visit well so that the part of the Palace is not too long, as it can be boring for children, and enjoy the Gardens for longer, where they can run around and play.
Tips for visiting the Palace of Versailles
I'm sure you already have most of your visit planned, but I'd like to give you a few tips for visiting Versailles to make it even better:
Have you got your ticket for Versailles yet? A world of kings, history and art is waiting for you there. Are you going to miss it?