The 6 best Segway Tours in Paris
Don't want to miss a single detail of Paris but don't want to explore the city on foot? Segway tours are your solution. This is a self-balancing electronic transport device that allows you to go on long tours without much effort. Are you up for it?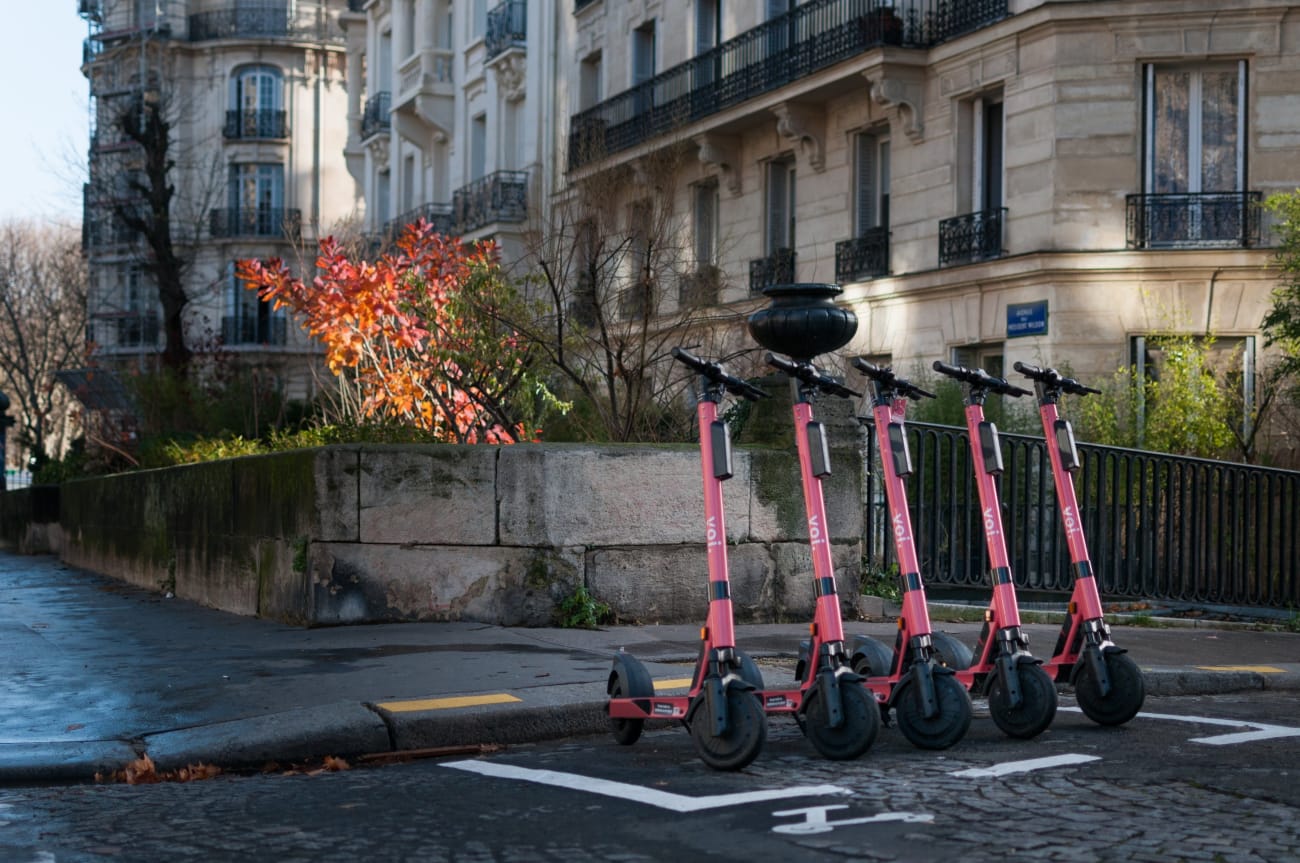 Paris is also known as the "City of Lights" or even the "City of Love". These nicknames are due to its various romantic settings and iconic attractions that illuminate the French capital at night. To appreciate its beauty you can choose different tours to see and do different activities in Paris. Among them, Segway tours are great for getting to know the city without getting too tired.
Walking around Paris can be a fun and relaxing activity. However, sometimes you may get tired after an hour of walking. On board a Segway, you won't get tired at any time and the best thing about it is that you can tour the parts of the city you want to visit in just 2 or 3 hours.
1. Segway tour of Paris's most famous attractions
Do you want to see the most popular attractions in Paris while riding a Segway? Then this type of tour is ideal for you, especially if you don't have much practice using this type of personal transporter as it is ideal for beginners. In just 1 hour and in the company of a small group, you will discover this enigmatic city in an original and fun way.
This tour usually has different timetables so you can see the different faces of Paris during the morning, afternoon or evening. Before you start, you will be given a 30 minutes briefing. At this time you will learn how to operate your Segway, receive your helmet and other instructions that the tour company deems appropriate.
During the tour you will hear current, historical and interesting facts about the sites you visit. You'll also have time to take some great photos and selfies. Among the sites you'll be able to visit during this tour is the Champ de Mars, a large public garden that you can walk through to meet the enigmatic Eiffel Tower. You can buy your tickets to climb the Eiffel Tower later to see it from the inside.
Near the garden is the architectural complex Les Invalides which was originally the residence of retired French soldiers and servicemen. However, this site is most famous for housing the remains of Emperor Napoleon Bonaparte. Other important stops include the Pont Alexandre III bridge and the Musée du Quai Branly.
Interesting details
Price: around 50 ¤ or more.
Duration: approximately 1 hour.
What's included: Segway tour, helmet and a briefing before the start.
Advantages of this option: it allows you to pass by the most famous sites in Paris in no more than an hour.
Disadvantages of this option: the tour can be very fast, so you may not fully enjoy each of the attractions.
2. Tour Paris on a private Segway tour with your partner
Paris is known as the city of love so if you are travelling with your partner a private tour is a good option, especially if you are looking for things to do in a day in Paris.
On this tour you will visit the most emblematic attractions of Paris such as the Eiffel Tower, Champ de Mars, Grand Palais, Petit Palais, the Torch of Liberty, the Arc de Triomphe, Trocadero Square, among others.
Touring these sites will be a way to seal your love in Paris and you will do it without any major fatigue, having your partner driving his segway right next to you.
This tour is similar to the previous one, only it includes more stops and more time at each of them. In addition, this is a private tour where you will have time to take pictures and enjoy the scenery, so there will be plenty of time for your personal requirements. The tour guides will make sure to take you to the best spots for memorable photographs.
Due to the tour, the time spent is around two hours. The timetable depends on the tour company you choose. However, the afternoon is the best time as it is close to sunset. This way you can appreciate day and night in one tour.
Interesting details
Price: around 80 € or more, depending on the tour.
Duration: approximately 2 hours.
What's included: Segway tour, helmet and a tour of the most romantic areas of Paris.
Advantages of this option: it's ideal for touring with your partner and enjoying the city in a short time, plus it's private.
Disadvantages of this option: this option can be a bit more expensive than other similar tours, although it is a bit more exclusive.
3. Discover Paris at dawn on a Segway
If you love sunrises, colours and weather, then you'll love touring Paris in the early hours of the day. This type of early morning Segway tour allows you to avoid the crowds and have the city to yourself and your small group. The tour normally lasts 2 hours, so you get to see many of the city's attractions.
Normally, this tour starts from Place de Fontenoy and your first stop is the Eiffel Tower. The next destinations are the Place du Trocadéro and 11 November, Arc de Triomphe, Champs Elysées, Grand Palais and Petit Palais. All of these destinations have incredible architectural designs that you can admire in all their splendour.
At each of the stops you will only have about 5 minutes to take pictures and appreciate the views, so this is usually a quicker tour. The companies usually include a helmet with your segway, as well as a hot drink to start the day. I recommend bringing a snack for the road or eating before you start the tour.
Remember that the aim of this tour is to admire the beauty of Paris at sunrise, so entrance fees to the sites mentioned above are not included. The good news is that you will have the rest of the day to come back and visit them or do any other activity that takes your fancy.
Details of interest
Price: about 80 €.
Duration: about 2 hours.
What's included: a segway and a personal use case, as well as a hot drink and a narration by the guide along the way.
Advantages of this option: by touring the city in the morning you can start the day off on the right foot and use the rest of the time for other activities.
Disadvantages of this option: for some people it may be difficult to get up early in the morning to start this tour, especially on holidays. Try to plan ahead to get to the meeting point on time.
4. Tour Paris on a Segway by night
Do you love the night sky, the moon and seeing cities lit up? If so, you shouldn't miss the opportunity to explore Paris by night on a segway. The City of Light is perfect for exploring at night as all of its attractions, from the Louvre to the Eiffel Tower, are illuminated. Remember to buy your Louvre tickets in advance if you want to visit the Louvre.
This tour usually starts just after dark so you can appreciate Paris at night. The guides usually dictate instructions and do a short training session with the group before setting off. I recommend arriving on time so you don't miss any of the guides' instructions.
The first stop is usually Les Invalides, the Military Museum and Napoleon's tomb. If you like history you'll love hearing what the guides have to say about these sites.
These tours also usually pass by the Pont Alexandre III bridge that crosses the Seine River in Paris and looks beautiful lit up at night. If you're interested, you can take a cruise across the Seine River after the Segway tour.
Other must-see stops include the Grand Palais, Place de la Concorde, Louvre Museum, Musée d'Orsay and of course the enigmatic Eiffel Tower.
Remember that this type of tour only guides you to the attractions and the cost does not include entrance fees. What is included is a helmet, a segway, a professional guide and if it's cold or rainy, some companies may include mackintoshes, a cold-proof cover on the segway handlebars and a coat.
Interesting details
Price: approximately 92 €.
Duration: around 1.5 to 2 hours.
What's included: professional guide, protective helmet, segway and mackintoshes and cold weather clothing in case you do this tour of Paris during the winter.
Advantages of this option: taking a tour at night allows you to admire and discover the illumination of all the Paris attractions.
Disadvantages of this option: At the time of the tour, most of the museums are about to close or have already closed. Therefore, if you want to visit them, you will have to do it the next day or before the tour.
5. Breathe fresh air riding a segway at Parcours Bois de Vincennes in Paris
If you want to get to know Paris away from the Eiffel Tower, I recommend touring the Parcours Bois de Vincennes by Segway. These parks are located in the historic forest that was once used as a hunting ground for French kings. It is located on the edge of Paris and is considered the lungs of the city.
You can get here by public transport, via metro, tram or RER (suburban train). Once there, look for the meeting point indicated by the company. As with all these tours, before you start you should do a little training and listen to the instructions and other comments that the guides have for you.
In addition to the helmet and depending on the weather, you will receive gloves, poncho, windbreaker and an anti-cold cover for the handlebars of your Segway. The tour will take you through the forest trails, where you will come across sites such as Land Art and the lakes of Daumesnil and Minimes. The most captivating spots are the lakes and the Tropical Garden.
This tour lasts approximately 2 hours and 30 minutes. During this time you will be able to rest and enjoy the scenery at the places indicated by the guides. I recommend doing this tour in Paris during the spring. Breaks are usually at the Grand Pagoda and the Romantic Temple on Reuilly Island.
Details of interest
Price: around 60 €.
Duration: 2 to 3 hours.
What's included: a segway with helmet, certified guides, equipment to protect from rain and cold if the weather warrants it.
Advantages of this option: this type of tour is an opportunity to be in contact with nature and breathe fresh air.
Disadvantages of this option: to get to the meeting point of this tour you must take public transport or a taxi. This means more time and more money.
6. Segway tour through the urban art of Paris
Paris is a city full of art, but not all of it is found inside museums. For many artists or art lovers, touring the city to explore the Street Art in the 13th arrondissement of Paris is the best plan. With this type of tour, you can appreciate the paintings and artwork that adorn the entire site.
The journey can be long, so riding a segway is ideal as it can take between 2 to 3 hours so you won't miss out on any of the artwork. Besides, travelling by segway will prevent you from getting tired of walking so much and you will only have to get off the equipment when you want to take selfies or photos of the murals you find.
In the murals you will find paintings by famous artists such as Seth, Okuda and Inti. One of the most anticipated works on the tour is often Lémurien Microcebus by Bordalo II, an artist known for repurposing urban waste into paintings and artwork. Feel free to take pictures and pose next to his murals.
The guides on this tour will tell you interesting facts about the artists and their work. If you have any questions you can ask them. The tour ends at the starting point, where you will have to return the segway and helmet. This tour is definitely a great way to see what tourists sometimes miss in Paris.
Details of interest
Price: around €60.
Duration: 2 to 3 hours.
What's included: a guided tour through the Street Art of the 13th arrondissement in Paris.
Advantages of this option: it is an ideal opportunity to appreciate art outside the museums of Paris.
Disadvantages of this option: You will not see the most popular and famous attractions in Paris on this tour.
What will I see on this type of tour?
Segway tours through Paris are planned to be relatively quick tours. In a short time they aim to cover the city's most popular attractions. It is an ideal experience for those who enjoy the great outdoors and don't want to miss out on what this place has to offer.
Depending on your tastes and what you want to appreciate, you can choose a morning or evening time slot. These tours offer a different perspective of Paris, as during the night almost all the attractions are illuminated. The lights can change colours depending on celebrations or important dates in the country.
You can also walk through streets adorned with street art so you don't just visit the best museums in Paris. If connecting with nature and breathing fresh air is your thing, you can also visit the city's lungs. As you can see, there's something for everyone.
Tips for a Segway tour of Paris
Unlike bike tours, you don't need to know how to drive a Segway. I just recommend you arrive on time at the start of your tour so that the guides can explain how to use the device. But don't worry: in about 10 minutes or so you will learn how to drive it as it is not a very complicated device.
In addition to arriving on time and paying attention to all the directions, I recommend that you visit the toilet before the tour starts. These tours are organised with the idea of making the most of the time and seeing many attractions. Although there are stops to appreciate the sites and take pictures, minutes at each stop are limited.
Also, I advise you to bring some snacks and a bottle of water for the road. Although you shouldn't walk, the heat of the day can dehydrate you, so it's best to be prepared. At the end of the day, you can also visit a restaurant in the capital or even decide to go on one of the best gastronomic tours that will show you the best flavours of the city.
Why is it advisable to take a Segway tour of Paris?
Visiting a city as famous as Paris is an opportunity not to be missed at any time, especially if you only have two days to see and learn about Paris or a tight schedule in general.
Sometimes while walking through the streets you can easily get distracted or tired of the tour. Travelling on a guided tour aboard a Segway you won't have these problems as you don't have to make much effort along the way.
This type of tour is recommended for older adults or people with reduced mobility. As long as they can stand up, the Segway will be an ideal transport for them so they won't miss any part of Paris. So you have no excuse to take your parents or grandparents on a tour of their choice.
Moreover, these tours are done with the help of certified guides. While passing by the sites specified in the tour, you will be able to hear interesting facts about the history of the site. In case you have any questions you can ask them without any problem. On the other hand, these tours can be taken at any time of the day regardless of the weather, as in addition to the helmet and the vehicle, the companies offer mackintoshes and coats to protect you from the cold.
What are the advantages of taking a guided Segway tour vs. visiting Paris on my own?
If you don't know your way around Paris, you will probably need a lot of time to get around the city without getting lost. Sometimes a map is not enough and you need an expert to show you where to go.
Just keep in mind that the metro can get you everywhere, but there are so many lines that it would be strange to find your way around. With a certified guide, you can find the attractions you want without any problems.
On the other hand, if you're short on time for sightseeing in Paris, Segway tours are an ideal option. If you are travelling with friends you can all go together as these tours are usually done in small groups of 8 to 10 people. This way you can have a more fun and enjoyable experience.
In addition, these tours usually last approximately 1 to 3 hours, depending on the sites included in the package. This gives you the opportunity to make the most of the day. You can do other activities during the day and finish with this tour or vice versa.
Remember to always wear your helmet to protect yourself on the way. Although they are safe tours, it is advisable to prevent damage from unexpected bumps or falls.
Join a bike tour
If you're more classic and prefer to pedal through the streets of Paris, there are also bike tours that take you to discover the city of light, where it is increasingly common to see cyclists. You can choose from electric bike tours to night-time tours for as little as 40 euros.