10 things to see and do in Paris in March
Oh, March! What a beautiful time to enjoy the city of light. With fewer tourists, lots of festivals, carnival evenings and celebration for practically the whole month, it's perfect for a fun-filled holiday.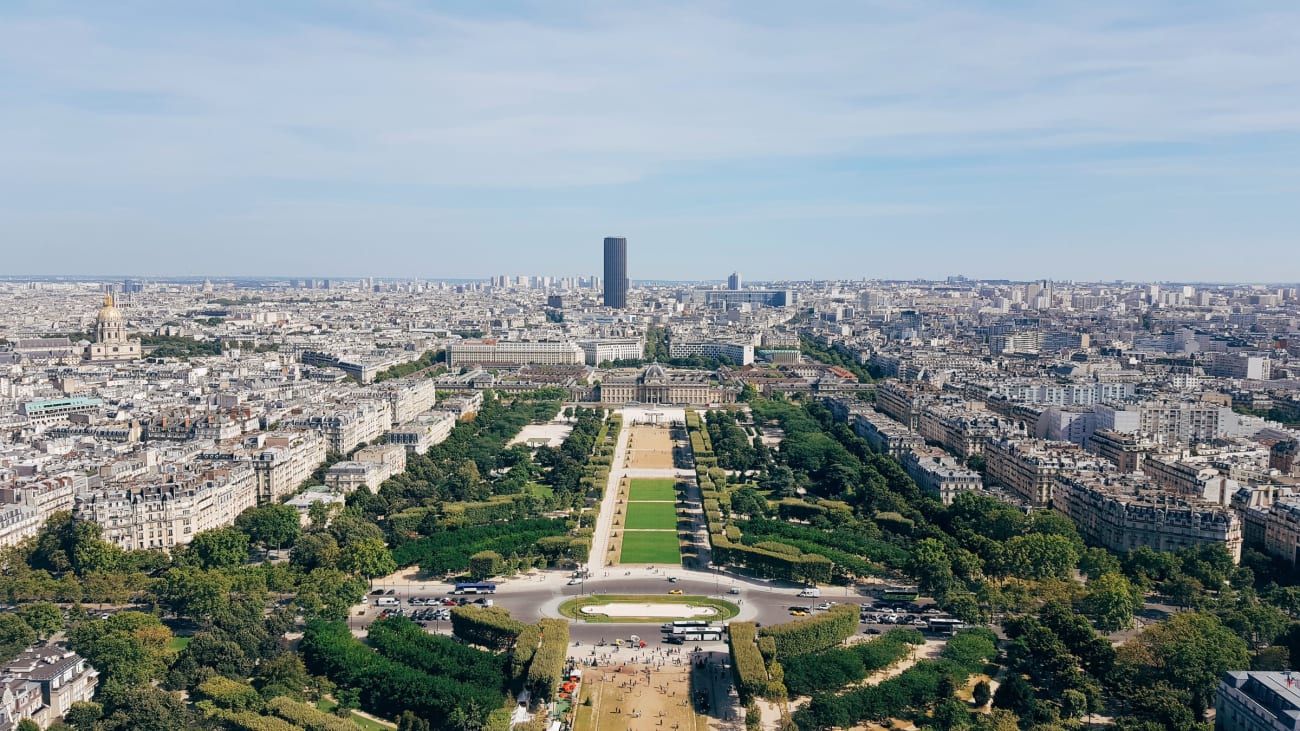 March could well be one of the best months to visit Paris. While the winter cold is still biting, spring withall its goodness is just around the corner and Parisians know it. This month is packed with festivities and celebrations ranging from the highest Parisian fashion to colourful and picturesque street parades.
Find out all there is to do in Paris for this time of year, put together a travel itinerary that allows you to include all the celebrations you can but also get to know Paris' beautiful museums, fabulous food and enchanting scenery.
1. Experience Paris Fashion Week
Semaine de la mode de Paris or Paris Fashion Week is the name given to the famous day of presentations that takes place in the French capital and closes the tour of the "fashion weeks" in other capitals such as London, New York and Venice.
Paris is proclaimed worldwide as the capital of fashion and style, so this event is extremely important for Parisians in general but especially for its designers and models who move a millionaire industry around the world. The main Parisian fashion houses such as Dior, Chanel, Yves Saint Laurent, Hérmes and Louis Vuitton join the event.
Although the truth is that it is a very closed event where only personalities linked to fashion and show business usually have access.
Shopping in Paris
Shopping in Paris is one of the top things to do in the city as it is considered the fashion capital of the world. That's why there are many shopping tours organised to suit all tastes and budgets. If, for example, you are interested in exclusive brands but at good prices, sign up for a shopping trip to the La Vallée outlet, with return transport. Are you ready for glamour?
Yves Saint Laurent Museum
On the other hand, if you can't get tickets to see the Paris Fashion Week shows but you want to soak up Parisian fashion, I recommend an alternative plan: visit the Yves Saint Laurent Museum. In this exhibition you can see the atelier and the fashion collections that the great French haute couture designer worked on.
2. Celebrate St. Patrick's Day at Disneyland Paris or at the Moulin Rouge
With a growing Irish population and tourists travelling from all over the world for the festivities, Paris is one of the most popular European destinations to enjoy the famous St. Patrick's Day celebration. Every year on 17 March, the French capital hosts a number of events combining music, beer, dancing and parades.
Where it takes place
This festival takes place all over Paris. However, here is a list of the most interesting activities and events, which I hope will inspire you.
St. Patrick's Day Parade: if you are a Disney fan or if you are visiting Paris with children, you can choose to visit the St. Patrick's Day Parade at Disneyland Paris.
Moulin Rouge: if you want to see the mythical mill for once in green, don't miss this show celebrating St. Patrick's Day.
Tour of the best Irish Pubs in Paris: If you're looking for top quality Irish beer, some pubs in Paris such as La Guinness Tavern, O'Sullivan's Pub Montmartre or Patrick's Le Ballon Vert offer the best.
3. Enjoy French cinema and film festivals
Cinema was born in France with the creation by the Lumiére brothers of the first film and the first reproducing device; it's no surprise that the art of cinema and festivals are an important part of the French cultural landscape.
During the month of March Paris hosts several annual film festivals, so if you visit the city around this time you'll have a chance to admire the work of award-winning directors and of course emerging talent.
Where it takes place
For Parisian cinema in March there are several options, here are my favourites:
Cinéma du Réel The International Documentary Film Festival takes place in mid-March and screenings are held at the Centre Pompidou.
Printemps du Cinéma or the Spring of Cinema takes place every year during the last days of the month. Participating Parisian cinemas show a wide collection of films for three days at a greatly reduced box office price.
4. Enjoy Mardi Gras or go to the cabaret
Carnival festivities in France are a series of celebrations that include all kinds of parades and activities and conclude on Mardi Gras. They usually take place between February and March so if you're in Paris for the Carnival celebrations, don't miss out!
Two particular celebrations stand out from the rest. Which one you choose will depend on your travel itinerary and hunger for adventure.
Cabaret in true Parisian style
If you don't make it in time for Mardi Gras because your trip doesn't coincide with this celebration (you know it changes every year), here are some other proposals for those looking for a fun time with magic shows, acrobatics and cabaret, with a direct link to get tickets online in advance:
5. Climb to the top at La Grande Roue
If you're visiting Paris with children you'll want to make time to visit Paris' La Grande Roue. Built in 1900 for the millennium celebrations, for a long period of time it held the title of the world's largest Ferris wheel. Today it is considered the largest mobile Ferris wheel as it is assembled and disassembled every year during the winter festivities.
The Grande Roue is 70 metres high and from the highest point it is possible to see the whole of Paris. Want to experience it on another level? Ride the Ferris wheel at sunset.
Where it takes place
From the end of November in Paris until the beginning of April, the traditional Parisian Ferris wheel is installed at Place de la Concorde. Tickets are available at the ticket booths there for around 10€.
Other suggestions for the little ones
If you run out of ideas for things to do with your kids in Paris on a rainy day in March, don't worry, there are plenty of other things to do with the family in the French capital beyond discovering the attractions at Disneyland Paris. Here are just a few:
6. Join the Carnaval de Femmes
The Carnaval de Femmes is a colourful costume parade held every year during the month of March. This peculiar celebration is also known as the Fête des blanchisseuses or the Washerwomen's Festival, in honour of the story that gave birth to the celebration. According to Parisians, this tradition began in the 18th century, when the washerwomen who worked along the Seine River selected the Queen of the Day and then danced under the stars until dawn.
Where it takes place
The Fête des Blanchisseuses route starts at Gambetta metro station in the 20th arrondissement and ends at Place de la République.
How to get tickets
There is no need to buy tickets for this event. It is a free, non-profit parade, open to the public. For more details on upcoming dates, visit the official event website.
7. Attend the Paris Half-Marathon
Since 1993, the French capital has hosted the Paris Half-Marathon every March; the event that marks the starting point of the city's annual sporting calendar. This event is also known as the warm-up phase for the Grand Marathon de Paris which takes place every year in April.
Where it takes place
Although the route can be modified in certain aspects, the most important avenues of Paris and the most attractive tourist spots or monuments are always taken into account. The result is a race route with beautiful views so that runners, who come from all corners of the world, are captivated by the attractiveness of the city.
How to get tickets
If you want to register as a runner for the Paris Semi-marathon you can do so on the official website. Please note that the Paris Marathon is one of the few events in this category that requires all competitors to have a full medical examination less than one year old. The registration fee for the event starts at €50; but to watch the race as a spectator you don't need to pay anything.
8. Enjoy a Parisian Jazz Festival
The French love jazz, so a trip to the Parisian suburbs to enjoy the Festival Banlieues Bleues is on the agenda for year after year. Founded by Jacques Pornon and artistic director Xavier Lemetre in 1984, the festival has been running for over 30 years and is held over 5 weeks between March and April.
This Jazz festival takes place in various venues in Seine-St-Denis and includes a varied programme of performances which we recommend you take a close look at on the official website. As a general rule you can enjoy performances by very talented artists from genres such as jazz, blues, R&B, soul, funk, flamenco and rhythms from various corners of the world.
Where it takes place
The festival takes place every year in Saint-Denis, a commune in the northern suburbs of Paris located 9.4 km from the city. To get to Saint-Denis I recommend taking the H train from Gare du Nord to Saint-Denis station.
How to get tickets
Information about the event's itinerary and ticket prices can be found on the official website. The historical average ticket price is usually no more than €16 for general admission tickets; over-60s, students and under-21s pay a lower price.
9. Enjoy an equestrian show
If you're a horse fan or have any sort of curiosity about these fascinating creatures, consider attending the Saut Hermès Horse Show. The sporting event is an annual competition with an artistic and cultural tinge that celebrates all facets of the equestrian world: it is sponsored by Parisian fashion brand and company Maison Hérmes,
. This event has received the highest classification from the International Equestrian Federation; it draws an average of 4,000 spectators each year. In addition to watching the competitions, visitors can participate in stands, specialised bookshops and a photo booth.
Where it takes place
Since its creation in 2011, this event takes place at the Grand Palais, Avenue du Général Eisenhower.
How to get tickets
Tickets for the event can be purchased directly on the Saut Hermes website. The price starts at 60 €.
10. European Craft Days
Organised by the National Institute of Crafts, this event aims to give greater recognition to the crafts sector. These days invite the general public to meet the artisans, visit their workshops and discover the knowledge of their craft.
The event was created in 2012 and has since gained a strong international dimension. 5,000 events are organised throughout France, including: workshop openings, exhibitions in heritage sites, meetings of professionals, educational trails, themed tours, fun activities and much more.
The event takes place every year in late March and early April. For more information on the programme of activities in Paris and in other cities, see the official website.
Paris temperatures in March
With temperatures ranging from 5 to 13 degrees Celsius, the weather in Paris in March is generally described as cool and pleasant. Although it is still necessary to wear warm clothes, snowfalls are practically non-existent and only in exceptionally cold years can they occur as an occasional event.
Unlike January in Paris and February in Paris, which remain cold most of the time, March is a changeable and polarising month; don't be surprised if you're caught in a cold winter rain one afternoon only to see bright sunshine and hear birds singing like it's spring the next day.