12 things to see and do in Paris in January
Visiting Paris in January can be a memorable experience. During this month the city of light unfolds in a variety of activities including: fashion, literature, circus art and tradition - let's find out how to enjoy it!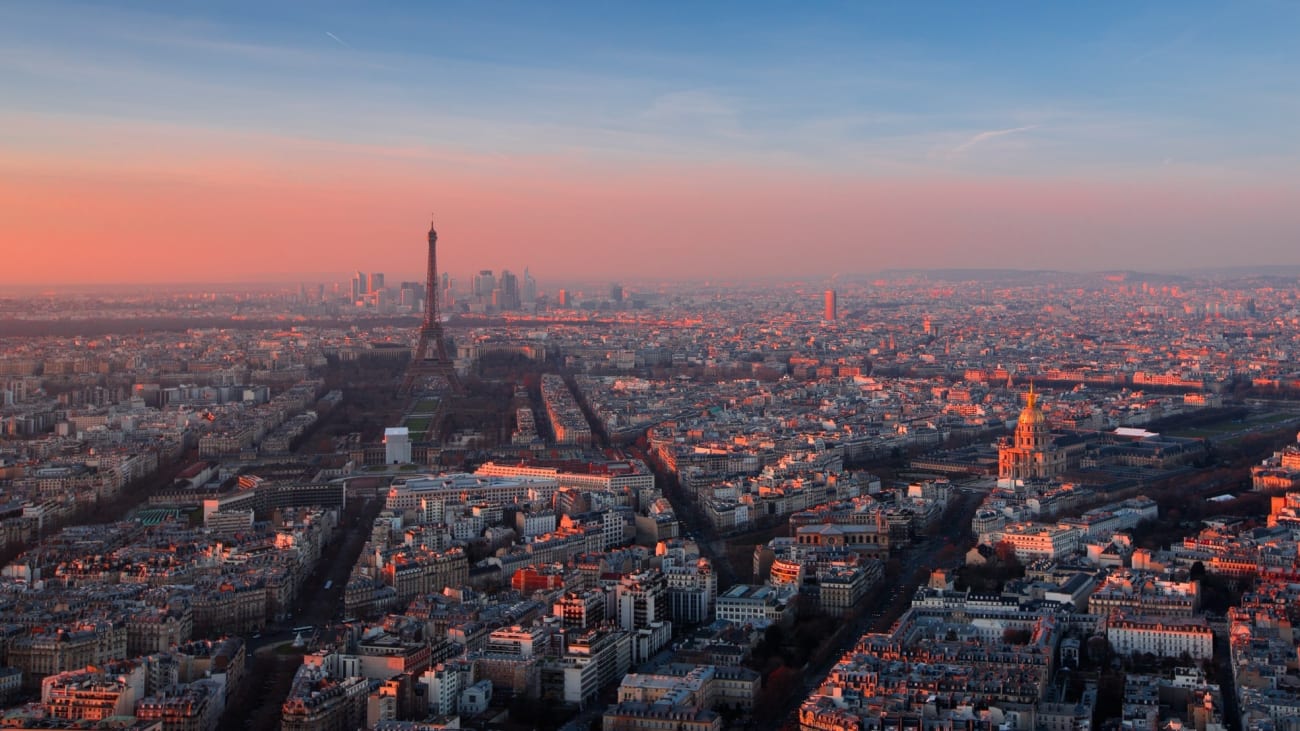 Paris is a city that shines, figuratively and literally, 365 days a year, but winter is a time when the streets of the French capital take on a very special hue. Although you'll have to deal with inconveniences like the cold, the advantages of visiting Paris in January may well outweigh the discomfort. It's a favourite time of year to see and do everything in Paris that you couldn't do on other trips.
1. Haute couture with Paris Fashion Week - Men's Edition
In the French capital, fashion is not just for women. The world's most important and iconic gathering of designers, models and celebrities has its own men's edition every year in Paris.
Some of the designers who take part every year in the Men's Edition are: Louis Vuitton, Balmain, Hermès, Lanvin, Valentino, Dior, Kenzo and more.
Where Paris Fashion Week takes place
Paris Fashion Week aims to keep the public interested through novelty, which is one of the main reasons why the event does not have a fixed location. However, Paris is a city with so much to offer that the event has in the past been staged in museums, libraries, cultural centres and places of historical relevance to Parisians.
How to buy tickets
Paris Fashion Week is an invitation-only event. Some people buy tickets through online resale. A detailed schedule of events can be found on the official website.
2. Join the Grand Prix d'Amérique celebration
Horse lovers may want to attend this unique event which takes place every year at the end of January in Paris and brings together beautiful horses and their riders.
Grand Prix d'Amérique is the World Harness Trotting Championships created in 1920 in honour of the United States as a token of gratitude for their participation in the armed conflict of World War I. The summit is attended by the best trotters in the world. It is attended by the best trotters and drivers in the world, to run a distance of 2,700 metres and take first place.
Harness trotting, also known as harness trotting, is a very particular style of racing in which the horse must pull a small cart on which the jockey is mounted.
Where it takes place
This event takes place at the Hippodrome de Vincennes, located in the 12th arrondissement of Paris on the right bank of the Seine.
How to buy tickets
On the official website of the Hippodrome de Vincennes you can access the invitation request form, fill in your details and follow the instructions.
3. Take a trip to Mont Saint-Michel
Mont Saint-Michel is a beautiful and special village on a small island. In 1979 it and its bay were declared a World Heritage Site and although many people recommend seeing it in the summer because of the better weather, here are the positives of taking a trip to Mont Saint-Michel from Paris in January:
The site takes on a very special mystical atmosphere because of the fog.
There are far fewer tourists and you can enjoy the place much more.
Be aware that the abbey is closed to visitors on 1 January and that in winter you may find some restaurants and shops closed, but the advantages outweigh the disadvantages.
4. Keep out the cold in Parisian museums
Yes, it's cold in Paris in January, but that doesn't stop you from exploring the city, especially its many museums. In fact, the winter season is the perfect time to visit these art-filled places, as you don't feel so much like being outdoors. In summer or spring, you might not feel so much like this plan because you prefer to enjoy the outdoors, so this is your chance to discover the great works of art that the French capital has to offer.
There are many museums in Paris, and here are some of the most interesting and iconic ones:
5. Take advantage of the Winter Sales
If you love fashion and you're visiting Paris in January, you can't miss the big winter sales for a day of shopping in true Parisian style. The start date varies, but they usually begin on the first or second Wednesday of January and continue for 4 full weeks.
Parisians have a talent for creating impeccable fashion style in a simple and fabulous way. Even on modest budgets they know what to combine and how to create enviable looks. It's no surprise that Paris is the style capital of the world and its shops are the best place to shop, and if it's in the sales, even better.
Where it takes place
The simple answer is: all over Paris. The French capital is full of fabulous boutiques and shops. However, the best places to shop in Paris are:
Louvre and Tuileries district: perfect for those looking for designer fashion and quality cosmetics.
Boulevard Haussmann: lose yourself for hours in the prestigious and dizzying Parisian department stores.
Le Marais: you will find top quality haute couture, vintage shops, handcrafted jewellery, antiques, cosmetics and perfumery.
Avenue Montaigne and the Champs-Elysées: a fusion of world-class designer fashion and chain shops.
St-Germain-des-Prés: ideal for those looking for classic and elegant designs.
6. Celebrate Three Kings Day or La Fete des Rois like a Parisian
In the Catholic tradition, the Epiphany celebrates the presentation of the Christ Child to the Three Wise Men and the gifts they brought with them. This event is linked to the feast of Saturnalia, which dates back to ancient Rome. During this pagan celebration the roles of masters and slaves are reversed, and to designate the "Prince of Saturnalia" the Romans used a cake in which a Jewess was hidden.
In France, the tradition of the Galette des Roi began, so if you happen to be in Paris around this time, don't miss the opportunity to eat a tasty puff pastry. In addition, both the day of the Fete des Rois celebration and the days before, you will see Parisian restaurants and patisseries reinvent themselves to offer their customers special activities.
Where to eat the best Galette des Rois in Paris
Maison Aleph: 20 rue de la Verrerie, 4th arrondissement.
Sano: 15 Rue Marie et Louise, 10th arrondissement.
Mamiche: 45 rue Condorcet, 9th arrondissement
Benoît Castel: 150, rue de Ménilmontant, 20th arrondissement
Tapiz: 65 rue de Charonne, 11th arrondissement
Yann Roofer: 137 Ave Parmentier, 10th arrondissement
7. Attend the Festival Mondial du Cirque de Demain
This unique show was founded in 1977 by Isabelle and Dominique Mauclair to pay tribute to young artists from all over the world. The event takes place at the end of January and brings together dozens of acrobats, tightrope walkers, clowns, jugglers and trapeze artists from all over the world.
As in the Olympics, the talents who come to perform their feats in front of an international jury are awarded gold, silver and bronze medals.
The World Circus Festival of Tomorrow is an international reference, all circus fans, artists, past winners and producing agents of the circus arts gather under the tents of Cirque Phénix to be part of the party.
Where it takes place
This event takes place at the Cirque Phénix facility. The nearest Metro station is Liberté.
How to buy tickets
You can find tickets for this event on websites such as TicketSwap.
8. Join the Night of Reading
This is an event created by the French Ministry of Culture in 2017 to promote and celebrate the loveof books. Since its creation, it has been held every year in January and, during the days of the celebration, libraries, media libraries, bookshops and other cultural actors offer various activities to anyone who wishes to participate.
Following a structure similar to that of the European Night of Museums, the participating libraries and centres throughout France open their doors for extended hours to offer the public various activities such as: reading in pyjamas, music, meetings with authors, debates, shows and games aimed at all ages.
Where it takes place
Nuits de la lecture is an open call event that takes place over three days in all libraries, bookshops and cultural actors who want to participate. You can visit the official website of the event for more details about the programme.
Almost all French libraries join in this celebration. Paris is a city with approximately 57 libraries; here is an indicative list of some of the Parisian libraries that join the Nuits de la lecture every year and offer all kinds of interesting activities.
Bibliothèque Faidherbe
Robert Sabatier Library
Fessart Library
Drouot Library
Bibliothèque Lancry
Bibliothèque Forney
Bibliothèque Amélie
Benoîte Groult Library
How to buy tickets
Tickets are not necessary. Most of the events are free, although some, such as the meetings with authors, may have limited capacity.
9. Join the Hip-hop party
Suresnes cités danse is a dance festival that aims to unite the hip-hop movement with more institutionalised contemporary dance. It was created in 1993 and since then has been held every year during the month of January, usually extending into the first days of February.
The idea behind the creation of the festival is to support more informal and less structured dance movements, so it offers choreographers who have not followed a classical training in modern or contemporary dance the opportunity to perform on stage with other renowned performers.
Where it takes place
This event takes place every year at the Théâtre Suresnes on the outskirts of Paris. Suresnes is a commune in the suburbs of Paris located in the Hauts-de-Seine. The quickest way to get to Suresnes is to take the RER A trainline from the centre of Paris and get off at La Défense station.
How to buy tickets
The official website of the Théâtre Suresnes has all the information you need to purchase tickets online.
10. Ice skating in the heart of Paris
The arrival of winter in Paris ushers in one of those unique activities that can only be enjoyed in the winter cold: ice skating. In the French capital, ephemeral ice rinks take over the city's most important squares and grand palaces to take this fun activity to the next level.
If you love ice skating, bring your gear ready for the adventure! While it's true that some rinks close for the first few days of January, many others will be open well into February in Paris.
Where to ice skate in Paris
Place du Trocadero: free admission.
Stade Sébastien Charléty: free admission.
Grande Arche de la Défense: about 10€ adults and 5€ children.
Marché de Noël du Jardin des Tuileries: approx. 10€ adults and 65€ children
Grand Palais des Glaces: between 20-29 € adults and 12 € children
Place Athénée: about €60 including tea time
Espace sportif Pailleron: indoor arena open most of the year. Prices and opening times can be found on their website.
11. Take a ride on La Grande Roue de Paris
If you visit Paris during the winter season, you should make a date at one of Parisians' favourite attractions located on the Place de la Concorde. La Grande Roue de Paris is a Parisian institution in itself. It was once the largest Ferris wheel in the world built on a 100-metre high structure for the Exposition Universelle in Paris in 1900.
Today the attraction is considered the largest moving Ferris wheel in the world at 70 metres high; it rides in the Parisian capital from November in Paris to February or March in Paris. The calendar changes every year.
Where it takes place
La Grande Roue de Paris is set up every year at Place de la Concorde; from here it offers a 360-degree view of the most important monuments in Paris.
How much does it cost?
You can visit the official website for updated rates. However, the average price is €10 for adults and €5 for children under 10.
12. Attend the Maison&Objet design and decoration trade fair
Maison & Objet is the largest design and decoration fair in Paris and takes place every year, usually in the penultimate week of the month. This celebration of art and interior design brings together the biggest names in the industry and for five days showcases their work and the trends in design and decoration that will set the tone for the year. In addition, each year a "designer of the year'' is chosen and his or her career and contributions to the industry are recognised.
Where it is held
The event takes place every year at Paris Nord Villepinte, a large convention centre located in Villepinte, near Charles de Gaulle Airport.
How much does it cost?
To attend the event, you pay an access badge which costs around 50€. With this badge you can attend the 5 days of the event. You can buy your ticket directly on the Maison&Objet website.
The weather in Paris in January
Paris is a cold and wet city throughout the winter, and January is the coldest January of the year in the City of Light, with an average daytime temperature of between 7 and 5 degrees Celsius.
The most important tip for visiting Paris in January is to make sure you're prepared for the cold. Pack a winter coat, warm socks, gloves, gloves, scarves, hats and a waterproof jacket to wear under your coat (it's also a good idea to bring snow or rain boots).
Tourist crowds in Paris in January.
January is possibly the quietest time to visit Paris due to the lack of tourists. This means that you can visit your favourite exhibitions without rushing, tables in the cafés are once again available and the pavements are not obstructed by human traffic. If you like it quiet and want to enjoy Paris at your leisure, you'll love January!
It's also the cheapest time of the year. It won't be too difficult to find discounted air or train tickets for this month, and many hotels run special seasonal offers to attract tourists in the off-peak months.