10 things to see and do in Paris in August
Enjoy music and cinema in Paris in August, a month that also offers great weather to get out and see the city in good conditions.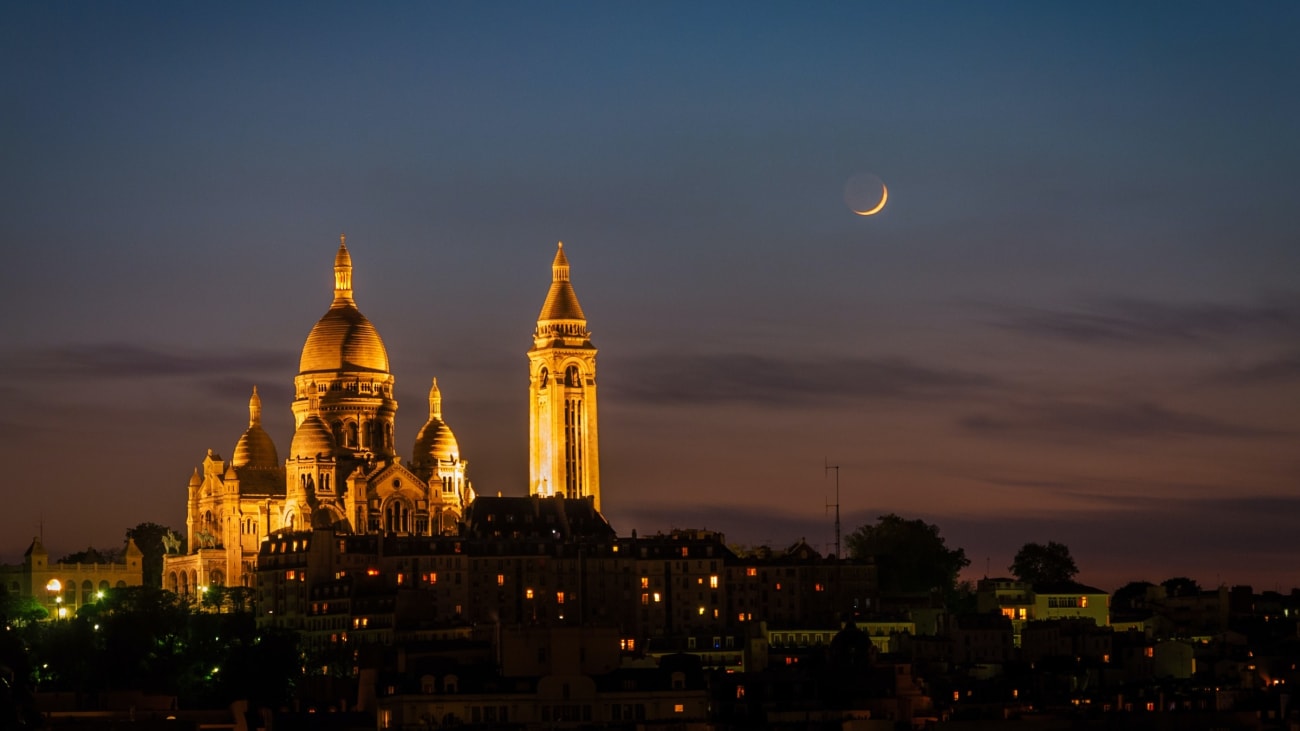 If you travel to Paris during August, you'll find there are plenty of attractions and things to do. This month is famous for musical events such as Rock en Seine, as well as other cultural events related to international cinema.
What's more, it's a time of year with great weather. So, without further ado, let's start with this guide.
1. Let yourself be dazzled by the night-time spectacle of the Versailles Fountains
It happens only in summer and only on Saturdays between mid-July and the end of August. This is when the magnificent fountains of Versailles are lit up to the sound of classical music from the time of the Sun King.
I recommend you check out the different options for booking your tickets to Versailles and you 'll experience it all, including the spectacular fireworks finale in the gardens of Versailles. If you're in Paris in August, you shouldn't miss it.
2. Take a beach stroll along the Paris Plages
Paris Plages is a tradition where a beach atmosphere is created on the banks of the river Seine. To give you an idea, 5,000 tons of sand are transported, along with a hundred palm trees, and hundreds of beach umbrellas.
The beaches are located on the banks of the Seine from the end of July to the end of August. So if you miss the beach on your summer trip to Paris, you know where to go. There are numerous food and drink stalls, free concerts, dancing, misting stations and tons of fun activities like sandcastle building competitions.
It's one of the best places to visit in the summer both day and night. Plus, at night you can see its illumination and all its charm from the river if you book a Seine river cruise.
3. Refresh and relax at Aquaboulevard
If you're travelling to Paris in August, don't hesitate to book your ticket for Aquaboulevard, an impressive water park. In fact, as well as being the largest in Paris, it is one of the most acclaimed in Europe. It has a total of 11 water slides and numerous water activities and attractions
. In addition, for those looking to relax, it has a relaxation area with sauna, jacuzzis and swimming pools where you can unwind. Don't hesitate! It is an ideal proposal both for the more daring and for those who are looking for peace and quiet.
4. Let yourself be dazzled by Monet's gardens
If you are passionate about the work of Claude Monet, I recommend you book an excursion to Giverny and discover the source of inspiration of the Impressionist painter, an ideal way to discover his flowered gardens, his house and the water lily ponds, accompanied by a professional local guide.
In addition, after the tour, you will have the opportunity to discover the historic centre of the town of Giverny, which is located in the Normandy region, on the west bank of the Seine River, where the painter lived for more than four decades.
And very importantly, you won't have to worry about how to get there, as this lunchtime tour includes a return transfer.
5. Visit Montmartre at the Tréteaux Nomades festival
Under the starry skies of the Montmartre quarter, this special festival takes place between late August and early September. The fun-filled event brings together artistic comedy, musicals, poetry and lots of theatre.
You can see up to 30 actors on stage in six different venues with the aim of making theatre accessible to all. The atmosphere is non-stop from noon to midnight.
As a tip for your stay in Paris, I recommend you always go early, especially to the free events. For more information I recommend you to have a look at the official website of the event.
6. Discover the Eiffel Tower at the Fête de la Libération in Paris
The 25th of August is a very important day in Paris, celebrating the liberation of France from German occupation, with various events around the city and a big celebration on the square in front of the Hotel de Ville. The celebration of the liberation of Paris is usually accompanied by speeches, performances, French flags and food stalls.
Note that in Charles de Gaulle's victory speech, he remarked: "Paris liberated! Liberated by itself, liberated by its people with the support of the armies of France, with the help and support of the whole of France, of the France that fights, of the only France, of the true France, of the eternal France!"
If you have time, I recommend you to book your tickets for the Eiffel Tower in Paris, select the last possible time and you will be able to see the light show and the flags all over the park.
7. Enjoy an outdoor movie
Thought big screenings were a thing of the past? Think again. In Paris, every August there are many free screenings of films, including classics and more modern films (most of which are shown in the Parc de la Villette).
Films tend to be shown in their original language, so if you don't understand French, you may be able to see a film in English!
The best part about attending is that not only is it free to enter, but you can bring your own picnic, or even borrow deckchairs to sit and watch a film or two in total comfort.
8. Rock out at Rock de Seine
Join the Parisian stalwarts who have stayed in town for August, and rock out! The three-day event takes place in mid-August in the Parc de Saint-Cloud, on the outskirts of Paris. Started in 2003, there are now five stages, with 65 bands representing rock, power pop, electric and folk music.
You can even set up camp and sleep overnight in the park. What an experience! Of course, you must book your campsite online, in advance and have a valid pass. It's important to know that only those with a three-day ticket will be able to leave and re-enter the festival.
The good news is that you can get there by metro on line 10, so it pays to know how to use the metro and how to get around Paris in general so you don't miss a single minute. If you're going to Paris for 3 days in August, you already know one way to have a great time. For more information visit the official website.
9. Attend the Wonderland Paris Festival for free
One of the new free, outdoor activities that visitors to Paris and locals can enjoy in August is Wonderland Paris, a summer festival that runs until early September.
From celebrity chefs cooking delicious food to open-air concerts.
Wonderland Paris is located in the 20th arrondissement of Paris and is well worth a visit.
10. Enjoy some unwinding time with the Classique au Vert
Classique au Vert is a classical music concert festival that takes place mainly during the month of August in the Parc Floral in the Bois de Vincennes.
If you want to relax a little, enjoy some good music in this magnificent and beautiful park, Classique au Vert is an event you should attend. Watching the sunset to the rhythm of classical music is something only Parisians and classical music lovers can describe to you.
If you like classical music and plan to go to Paris for 7 days or more, I would recommend you to book at least one day for this classic event!
Paris is closed during August?
While it is true that part of Paris closes during August, this only tends to affect family businesses and smaller restaurants that decide to rest part of this month, visit relatives and change of scenery.
So, if you have heard this somewhere, I can assure you that August is still a good month to visit the city and make the most of Parisian events, as you have seen in this post.
The weather in August
While there are numerous things to see and do in Paris all year round throughout the year, August is an ideal month to travel to Paris as the average temperature is between 18 and 24 degrees Celsius, which means perfect weather for wandering the Parisian streets, plus more hours of sunshine to enjoy the city.
It's worth noting that in recent years, Paris, France and Europe in general, have seen more and more cases of heat waves. If there is a heatwave during your visit to Paris, then it is important to be prepared: stay hydrated and wear cool clothes.
I would also consider booking a hotel that has air conditioning, as this service in Europe is not always a given, especially in B&Bs and older hotels.
What to wear in Paris in August
There's one word that perfectly describes the French city in August: hot! Bring plenty of light, breathable clothing, as well as sunglasses, a hat and sunscreen.
On the other hand, evenings can be a little chilly, so it's a good idea to pack a light jacket just in case. However, if you are going to Paris with the idea of visiting the interior of some religious buildings, be aware that you may need to cover your shoulders and knees before entering.