10 things to see and do in Paris in April
Fresh air, blossoming trees and fewer crowds, travelling to Paris in April certainly has many benefits.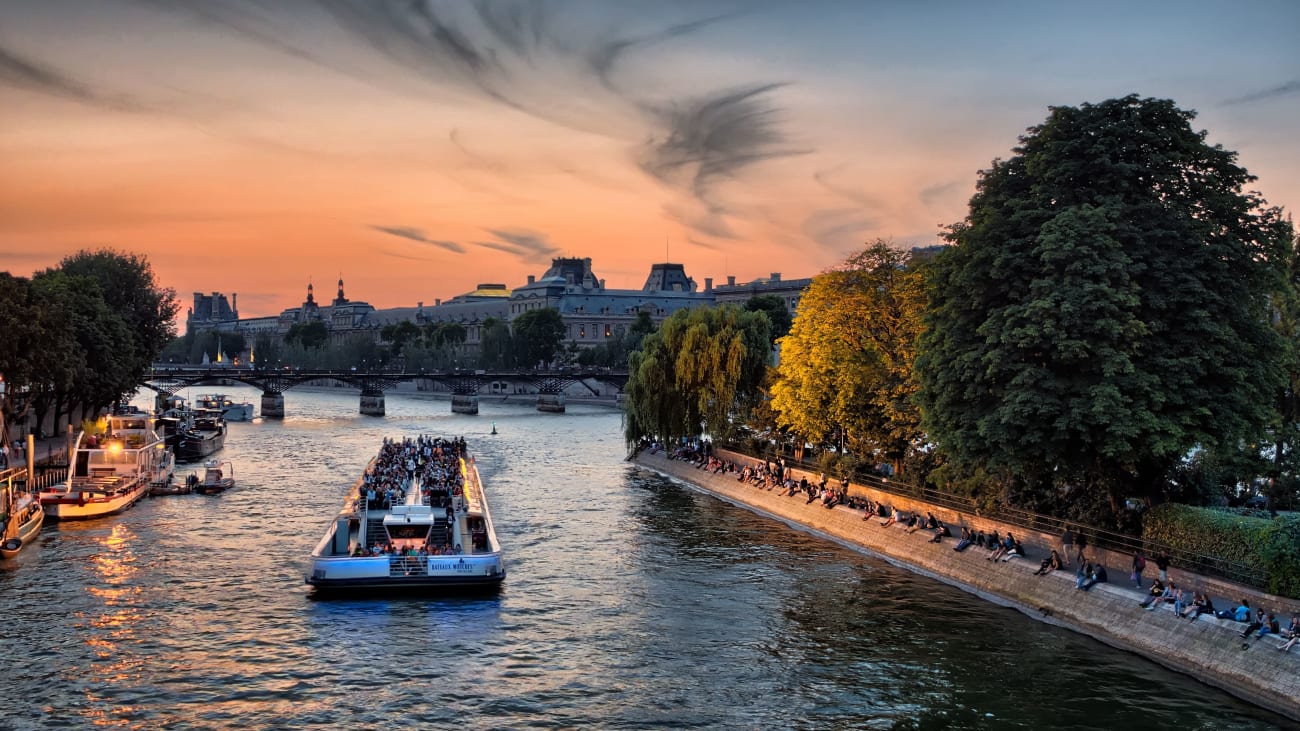 April's main events include major art and craft exhibitions, a huge 'fun fair' dating back to early medieval times and the arrival of spring in Paris as all the city's trees blossom and pavement tables fill up in front of bars and cafés. Many wonderful concerts fill the April calendar, with concerts in historic churches, concerts at Sainte-Chapelle and well-known artists performing at iconic venues such as the Bataclan, Trianon and AccorHotels Arena.
In fact, April is possibly one of the best months to travel to the French capital, but we'll get to that. Just keep in mind that spring in Paris is a magical time when the city is full of beautiful, colourful streets.
1. Paris Marathon
The Paris Marathon starts on Sunday in early April at the Arc de Triomphe when 65,000 runners from all over the world start the run along the Champs Elysées and around a quarter of a million spectators line the 26.2 mile (42.2 km) route to watch.
Whether you're running, or watching the Marathon route, the course will give you spectacular and focused views of iconic landmarks such as the Eiffel Tower, Notre Dame, the Louvre, and not to mention interesting runs through Paris' s two huge wooded parks.
Thanks to the relatively flat course, the winner usually crosses the finish line in just over two hours, although many runners can still be seen along the course until at least mid-afternoon.
Pre-race events include the 3-day Paris Marathon Expo at Porte de Versailles, where you can also pick up your race bib, and a 5km breakfast run.
2. Foire du Trone- Throne Fair
This fair attracts almost 5 million visitors and is held every year during April and May in the Bois de Vicennes, 12th arrondissement. It is a fair famous for carnival rides, stuffed animals, chips and beer.
Admission is completely free and the prices are quite reasonable. By metro you can get off at the stop: Porte Dorée (it's a good idea to know how to use the metro in Paris).
Visit the huge Foire du Trone in Paris to be part of a tradition that dates back to 857 when the 15-year-old King Lothair established the first Fun Fair. Fun fact, the first fair was a sort of festive marketplace filled with acrobats and games of chance to entertain the crowds.
3. Paris Art Fair
If modern or contemporary art fuels your passion, the incredible annual Art Paris fair should be at the top of your must-visit list for April. Head to the Grand Palais to immerse yourself in the works of over 1,000 artists from more than 70 countries displayed under the huge glass dome.You'll see special shows by several big-name Parisian artists and established and emerging artists, mostly from Bogotá, Buenos Aires, Lima and Mexico City. There will also be solo exhibitions and digital projections at the front of the Grand Palais. The fair takes place in early April and tickets cost 25 euros.
4. Go in search of cherry blossoms
Although the magnolia (tree species) in the city is starting to fade, there's no denying that some of the fluffiest cherry blossoms are in full bloom during the first two weeks of April. Some of the best places to enjoy the cherry blossoms in Paris are in the trees surrounding Notre Dame Cathedral. You'll see that just on the south side of the cathedral there are thousands of pink blossoms, which are at their peak in April. You can also cross the Seine and visit the Quai de Montebello, where the density of cherry trees is even higher, so it's not uncommon to see a blanket of blossoms that you can pick and put in a vase in the Parisian tradition of picking them, the smells are lovely!
5. Take a day trip to Château de Sceaux
The best time to take a day trip to the fairytale-like Château de Sceaux is in April - after all, it is here, in the grounds of the French château, that you will discover an orchard planted with cherry trees in full bloom in mid-April. Although it's not the hidden gem it was just a few years ago, make sure you head there as early as you can so you can enjoy the views without the crowds!
6. International Rare Book and Autograph Fair
This annual event is a bibliophile's dream as there will be over one hundred and fifty exhibitors. The fair is held in the temporary Grand Palais on the Champ de Mars in the open air.
To be able to enjoy a literary atmosphere in the full bloom of spring without the walls acting as a screen is quite an experience. Although the dates may vary depending on the weather, you can find all the information you need on the official website of the Champ de Mars.
7. Visit the annual Paris Book Fair
Speaking of books, another annual book fair is held in the French capital and is said to be one of the most popular literature-related festivals in the world- at the end of April, all manner of books and bibliophiles descend on the city to celebrate the written word! For more details on the fair you can visit the Livre Paris website. Also, on the same website you can find out about the writers who will be attending and all the mini-events that will accompany these 3 days of international fair.
8. PAD Paris Art and Design Fair
The Paris Art and Design event has been running for more than 18 years in the Tuileries Gardens. It takes place at the beginning of April and usually only lasts 4-5 days, so make sure you don't miss this one, especially if art is in your blood.
Attendees range from professional designers and collectors to those who simply enjoy finding interesting pieces or inspiration for your home - it's not to be missed!
9. Visiting the Gardens of Versailles
While Versailles is rarely empty, arriving at opening hours to discover the beautiful gardens surrounding this Royal Palace of Versailles is definitely worth your time. What's more, if you're going to Paris for a day in April or if you're only travelling for two days in Paris, you should stop by this iconic place to get some fresh air and enjoy the grandeur of the place. The fresh air that fills your lungs when you walk through the Grand Trianon is very special. If the weather is nice, it would be a good excursion to see the gardens, and any flowers they have put out for spring, as they should be at the peak of their bloom.
10. Visit the Promenade Plantée
Spring is the perfect time to visit the Promenade plantée (also known as Coulée verte René-Dumont). A railway track that was in disrepair until it was converted into a walkway in 1993 with flowers in abundance.
You can also get fantastic views of the city as you stroll along this 4.5km elevated walkway with tons of green space - highly recommended in April!
Why you should visit Paris in April
We could name many reasons why you should visit Paris in April; however, the first reason, without a doubt, is the onset of warm temperatures. Another reason to visit the city of love at this time is to see the plants blooming, while the trees are naturally adorned with flowers and fruits. April, along with October in Paris, are the best months to visit Paris because these months have a good balance between warm weather and less crowds. However, it's not hot yet. The temperature is still relatively low, but definitely with a noticeable difference compared to March in Paris orother previous months. Rainy days are a bit more frequent than the previous month, but not as frequent as in May in Paris. Tourists visiting Paris in May see the most rain of the year. Besides, you won't be bored here. I can assure you that there are plenty of things to do in Paris in April both outdoors and indoors.
The weather in Paris in April
April averages are slightly higher than March in Paris. Not only does it rain a little less, but it is also warmer than the previous month. The sun also shines more often. In terms of rainfall, Paris in April experiences, on average, 25 mm, only slightly more than in March. On the other hand, April comes with many hours of sunshine per day, around 5 to be more specific. As for the temperature in Paris in April, it can rise considerably during the day, allowing pleasant walks along the Seine river or in the city's parks.
Minimum temperature: 7°C
Maximum temperature: 16°C
Average day temperature:11°C
What to wear in Paris in April
If you're going to Paris in April it's worth knowing that the city will experience a bit of everything throughout the month: rain, sun and wind. Comfortable daytime shoes should definitely be on your list of what to take to Paris. And for the evening, pack a pair of faux leather boots- they're sure to come in handy as temperatures drop at that time of day.
Unless it's unusually cold for the time of year, you won't need a hat or gloves; however, a light scarf always comes in handy in Paris. And as a final tip, be sure to pack a good anti-theft bag no matter where you go, especially if you're going for 7 days or more or need to move around a lot. Paris is full of pickpockets.
Paris in April
Paris is the most visited city in Europe. The peak tourist seasons from July to September in Paris see thousands of tourists wandering around Paris. In April, the crowds are much smaller. Any attraction you visit won't have mile-long lines or crowds of people blocking your view.