12 Best Things to Do on Christmas in Paris
Markets, street lighting, special activities and many more attractions. At this time of the year, Paris shines brighter than ever and just walking along its avenues will give your Christmas the special touch you desire.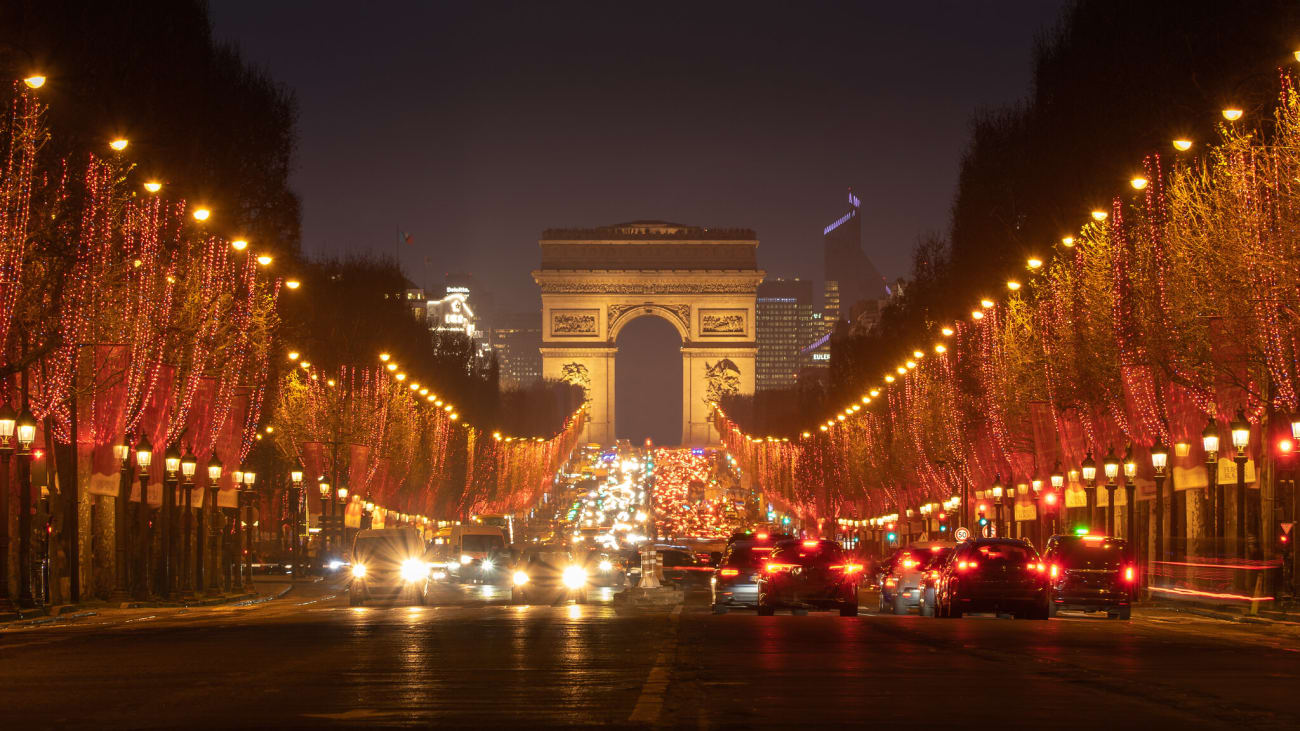 If there is normally a wealth of things to do and places to see in Paris, at Christmas time its charm is multiplied. The French capital dresses up for the festive season with its elegant illumination and offers its inhabitants and visitors a wide range of entertainment for both adults and children.
During this time of year, the Christmas spirit is embodied in the streets of Paris, to the point that it is difficult to choose what to visit first. That's why I've put together this short list of ideas and key points so that you can organise your visit and choose what you like best.
1. Visit Disneyland Paris
Christmas may be the best time to visit nearby Disneyland Paris to round off your trip to the French capital. No matter your age, the park offers illusion, magic and a unique experience to all its visitors during this season.
Besides sharing its streets with all the Disney characters and riding the Disneyland Paris attractions, at Christmas the whole park shows its best face with its garlands, Christmas balls and lights.
The huge Christmas tree stands out at this time of the year, adorned with a fantastic set of lights that envelop it with colour and brightness. Don't miss the special parades that several times a day go along the main street and show different Christmas allegories. The Christmas season in Disneyland Paris usually starts in November and lasts until after Epiphany.
2. Take a short Christmas cruise on the Seine River.
There is possibly only one activity more romantic than taking a cruise on the Seine River, and that is during Christmas or, better still, on New Year's Eve.
Although you can book various types of cruises all year round (day cruises, night cruises, dinner cruises including ....), on the night the year ends there are some companies that organise a small party on board their boats.
This celebration includes a New Year's Eve dinner, cotillion and a dance afterwards that goes on well into the night. All of this is accompanied by spectacular views of the Louvre, the Eiffel Tower and Notre Dame Cathedral, all of which are adorned with special Christmas lighting.
3. Marvel at a Christmas show at Moulin Rouge
Christmas in Paris is not only experienced in the streets, but all kinds of establishments offer special activities. The best known is possibly the one organised by the most famous cabaret in the whole city: the Moulin Rouge.
On these dates, tickets for the Moulin Rouge offer the opportunity to attend a special show that reflects the best of its essence. In addition, it also includes a dinner that has nothing to envy from the best restaurants in the city.
To spend a Christmas night at this legendary venue you must be proactive, as tickets tend to sell out quickly. If you are unable to make it, you can always try to go and see another popular show that takes place on those days. This is the one at the Lido Paris Merveilles and you have the option of buying a normal ticket or a special ticket which includes dinner.
4. Take a trip to Versailles
A must-do for Christmas is a trip to Versailles with a guided tour. The most convenient option is to look for one that includes bus travel so you don't have to worry about how to get there.
You will also be accompanied by a professional guide who will tell you all the stories of this UNESCO World Heritage Site, which served as the residence of royalty between 1682 and 1789, when the French Revolution took place.
On this tour you will pass through emblematic rooms such as the Hall of Mirrors, where the Treaty of Versailles was signed in 1919, which marked the end of the First World War. You'll also stroll through the 800-hectare gardens, with a myriad of plants, flowers, fountains and ponds.
5. Travel to the Loire Castles
Christmas is a great time to take a trip to the Loire Châteaux. My recommendation is to visit the Châteaux of Chenonceau, Chambord and Amboise.
This 12.5 hour tour is an excellent option because it includes transfers from Paris. In addition, you will be accompanied by an expert guide who will tell you all the details about the history and architecture of these three castles.
You'll be able to visit Leonardo da Vinci's tomb and his residence during the last years of his life. And to round off a spectacular day: a tasting of 3 wines from the region.
6. Let yourself be surprised by the decoration of the shop windows
Parisians live Christmas with great intensity and this can be seen in the effort they put into decorating the whole city, both public and private environments. In recent years, the decoration of shops and shopping centres has become one of the city's main attractions at this time of year. Walking through the streets and looking in the shop windows is an experience that makes everyone feel like a child again, as lights, colours and illusion are everywhere.
One place you should definitely visit is the Galeries Lafayette. This department store not only has a fantastic Christmas tree, but also one of the most spectacular window displays in the city. The people in charge of this window display have created a decoration that includes movement and music to achieve a hypnotic result.
On the other hand, some of the Parisian boutiques have automatons and fantastic artifices in their windows that tell stories and fairy tales for all audiences. Among the most notable are Printemps Haussmann, Le Bon Marché and BHV. In the latter, children can also have their photo taken with Father Christmas.
7. Stroll under the Christmas lights
If there's one time of year when the City of Light lives up to its nickname, it's Christmas. Strolling through its streets to see the lights is a must if you travel to the French capital at this time of year. Each of its avenues is filled with multicoloured bulbs in the most diverse shapes, projections and luminous arches. Likewise, all its historic buildings and monuments are also filled with these lights and show their best side.
Although you'll find unforgettable Christmas lights all over the city, there are some areas you can't miss: the Champs Elysées, Place Vendôme, the entire Montmartre district and Bercy Village are just some of them.
To enjoy the decorations, all you have to do is take a leisurely stroll or take an organised tour of Paris. Another way to see the illumination is by taking one of the Paris sightseeing buses that travel around the city.
8. Explore the Marchés de Noël, Paris's Christmas markets
During the Christmas season, several Parisian neighbourhoods set up the Marchés de Nöel, Christmas markets that are one of the city's main attractions when you visit in December. Strolling through them, with their smells and colours, you will be transported to a magical world.
The tradition of Christmas markets in Paris comes from Alsace. These markets, which I tell you more about in the article on Christmas markets in Paris, are made up of small huts offering products such as crepes, roasted chestnuts (marrons), waffles and mulled wine. They are also great places to buy decorations, gifts and much more.
Christmas markets begin to open in mid-November. Among the most popular are those located on the Champs Elysées, in the Tuileries Gardens, at Notre Dame or on the Champs de Mars, although there are also smaller ones in other Parisian neighbourhoods. If you can, you shouldn't miss the one in the Montmartre district, where you'll find stalls selling handicrafts and products from all over the country.
9. Enjoy a Christmas concert
Music lovers will have plenty of options to enjoy their visit to Paris over Christmas. Several venues in the city, as well as some churches, host a variety of high quality concerts.
The Maison de la Radio, a building built in the 1960s, is the most famous. On several nights you can enjoy performances by some of the most important orchestras in the country, including the Philharmonic Orchestra and the Orchestre National de France. On the other hand, another concert that traditionally takes place at this time of year is the one offered by Radio Classique, held at the Théâtre des Champs Elysées.
The concert held every year in Notre Dame Cathedral was one of the highlights of the Christmas music programme. While it remains under repair, it has been moved to the Church of the Madeleine, the capital's best-known neoclassical church, and the Church of Saint Germain de Pres. After the concert, I recommend you go to the Latin Quarter (or book a tour there) to try the cheeses on offer.
10. Feel like a kid on a merry-go-round
If you' re travelling with children to Paris, it's almost impossible for them not to want to enjoy the many carousels that are set up in some of the capital's districts. These merry-go-rounds are, moreover, completely free and riding them is an experience that the little ones (and many grown-ups) will never forget.
Although there are quite a few to be found in the streets of the capital, I recommend that you don't miss the one installed in the Place du Trocadéro, with great views of the Eiffel Tower. You can also take the opportunity to visit the Christmas market that is set up in the tower itself.
It is also very interesting to visit the Place de la Concorde. Here you won't find a carousel or merry-go-round, but a big Ferris wheel from which you can see part of the city. If it's night time, you'll be able to enjoy the Parisian illumination in all its splendour.
11. Ice skating
If you're a bit of a skater or if you're just in the mood for a good time, one of the most popular Parisian Christmas entertainments is ice skating. Ice rinks are generally free to enter, but be aware that you will have to pay to rent skates and equipment if you don't bring them with you. Some rinks also have a special area for children. In recent times, however, some skating rinks have been appearing that do require a fee to use them.
The fun of these rinks is not only in skating with greater or lesser skill, but the location of some of them is certainly spectacular. Among these is the one installed in the Grand Palais, under its impressive glass dome, which is the largest non-permanent rink in the world. If you can and you're enjoying Paris at night, I recommend you go to this rink after dark, as it turns into a sort of disco with DJ and strobe balls where you can dance on your skates.
The Galeries Lafayette also has its own ice rink on its terrace, which gives you a nice view of the Opera and the Eiffel Tower. Finally, I can only recommend the rink located on the first floor of the Eiffel Tower itself. The experience of skating on it while enjoying the views from the Eiffel Tower is unrepeatable.
Joaquín's Traveller Tip:

Be prepared to share the main streets with a large crowd of people doing their Christmas shopping or simply strolling around. On the other hand, remember to take warm clothes, as temperatures can be very low...
12. Enjoy New Year's Eve and New Year's Eve in style
The big days of Christmas are undoubtedly New Year's Eve and New Year's Eve. For several years now, Paris has been celebrating the turn of the year with various activities that are worthwhile, both for the spectacle that is organised and for the atmosphere in the streets.
On the night of 31 December, the Champs Elysées in Paris is dressed up in festive attire. Thousands of Parisians and tourists gather there to welcome in the new year with a great sound and light show in which a video is projected onto the Arc de Triomphe. At the end, you can enjoy fireworks.
The next day, a big New Year's parade is held on the same avenue. Floats, musicians, clowns, dancers and acrobats parade through a street full of people. And if you are looking for more plans, be sure to visit our post activities and places to see in Paris.
Joaquín's Traveller Tip:

New Year's Eve is for enjoying yourself, but be careful not to drink too much. According to the country's laws, if the police find you in the street drunk they can fine you more than €100. It is also forbidden to throw firecrackers.