How to Get to Versailles from Paris
Are you planning a visit to Versailles from Paris? I'm sure you'll enjoy it, but you have to get there first, so I'd like to present you with some alternatives to make your trip a success.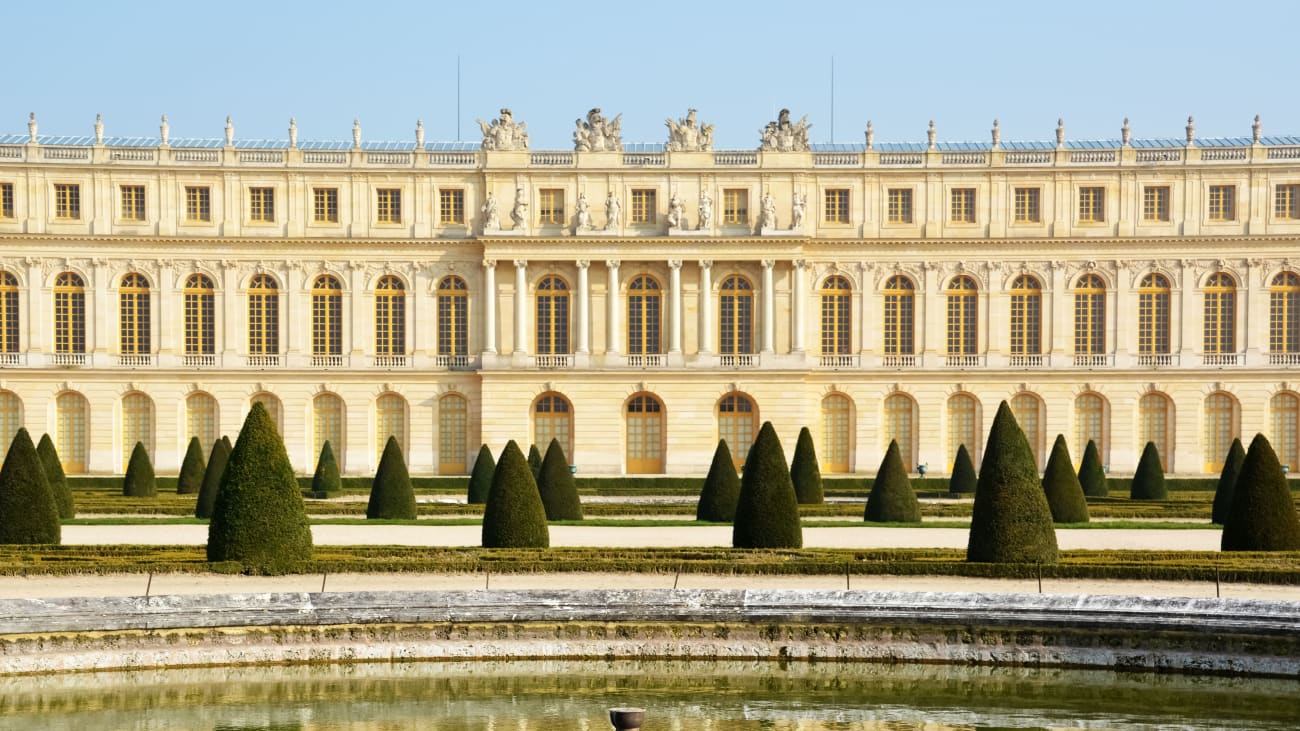 If you're preparing your list of things to see and do in Paris, Versailles is a must-see excursion about 20 kilometres from the French capital. The beauty of its Palace and Gardens is part of French culture and history and will also be part of your trip. As such a popular tourist attraction, you can't forget to buy your tickets to Versailles and organise your own way to get there.
Although organised tours to Versailles are always the best option because they organise the transport for you and then also accompany you during the visit, there are other means of transport such as buses and trains, as well as more personalised alternatives such as taxis. I'll tell you more about them, their advantages and disadvantages!
1. An organised tour: the best way to get to Versailles from Paris
If you want to make sure your visit to Versailles from Paris is a success from the very first minute, I advise you to book an organised excursion to Versailles from Paris. This way, not only will you get to Versailles comfortably and quickly, but the visit will be much more complete, as most of these tours include a specialised guide to get to know the Palace and the Gardens in detail, without missing anything at all.
Your visit to Versailles should focus only on enjoying it, on making the most of every minute and getting to know an essential part of French culture, which is why I recommend you forget about having to organise your trip and trust the experience of the tours. This is undoubtedly the reason why they are so popular.
Art, nature, history and culture run through every corner of Versailles, and you can see it all during your guided tour. One of the great benefits is that your guide will tell you everything you need to know about Versailles, from the historical events that took place in the Palace of Versailles and its famous Hall of Mirrors to the nature that inhabits the Gardens of Versailles.
Getting to Versailles from Paris can be a bit stressful if you take care of everything yourself, as when you buy tickets to Versailles you'll have to choose a time slot and arrive on time. With an organised tour you can make sure that this is the case without having to worry about not knowing where to get off or if there is space to park.
Moreover, depending on your needs and budget, you can book different types of tours: without queues, with private transport, with full entry or just to the Palace and Gardens, etc. In short, with one of these excursions you will be able to live an almost tailor-made experience in Versailles.
Excursion from Paris to Versailles by train
Are you worried about not knowing your way around Paris and getting on the wrong train or at the wrong stop when you go to Versailles? It's normal, Paris is a huge city and can be a bit confusing. That's why if I want to take the train to Versailles and make sure I get there safely, I rely on the guide of an organised tour. This way, the whole group meets at the train station to head for Versailles without the possibility of getting on the wrong train or missing the stop. So, I can assure you that in about an hour you will arrive at your destination without any problems.
The best thing is that in addition to the security of travelling by train with a guide, this person then accompanies you during the visit to Versailles, so that you don't miss anything and understand every legend, historical fact and secret of the Palace and its Gardens.
Without a doubt, it is usually a very affordable option, as it includes entry to the whole of Versailles (including the palaces known as the Trianons) and also the professionalism and knowledge of a specialised guide. Please note that many of these tours do not include return train tickets, but if you have a card such as the Paris Pass or the Paris Transport Pass, you won't have to pay for the journey.
Paris to Versailles tour by shared private transport
Public transport doesn't quite convince you? I hear you, sometimes it's better to invest in an option that takes all the worry and stress out of getting to the station or the train being late and losing time on the tour. If these words resonate with you, have you thought about booking an organised private coach tour to Versailles? This is a highly recommended alternative, as you will be travelling with a small group of tourists who will also visit Versailles with you and the guide who accompanies you.
The comfort of this type of tour is priceless, as the coach will pick you up at a central point in the city, which will be easy to reach, and then take you to Versailles with another group of travellers who are equally excited to see this historic palace. If you're travelling to Paris in summer there's nothing better, because in addition to the speed with which you'll arrive (approximately one hour), you'll have air conditioning in the vehicle and, believe me, with the summer temperatures in Paris, you'll appreciate it.
Once you're in Versailles, after such a comfortable journey and a queue-free entrance, you'll have all the energy to listen to your guide's explanation, contemplate the ancient royal chambers and walk through the Gardens where, depending on the time of year, you'll witness a beautiful spectacle of water, lights and music.
Price: from around €70 (including transport and access)
Journey time: around 50-60 minutes in total
Recommended if: you want to forget about waiting and arrive at Versailles in comfort to enjoy your visit.
2. How to get to Versailles by train from Paris
A way to get to Versailles from Paris quickly and cheaply? It exists and it's the train. You can get to Versailles in about 30 minutes from one of Paris' most central train stations, and at a good price (around €4 each way). Depending on where you're staying, you'll be better off taking one train line or another, although I'll warn you that you'll have to change trains to get there. In any case, I'll tell you what your alternatives are.
RER line C
Paris Invalides station connects with Versailles Rive Gauche station, which is a 10-minute walk from the entrance to Versailles. To get there, take the RER line C, which takes about 30 minutes to cover the distance between the two points. Be careful and make sure you take the train in the direction of Versailles Château - Rive Gauche, as there is a fork in the line.
My advice is to value this option, as it's quite cheap (around 8€ round trip) and you can easily get to Invalides on the Paris metro from any Parisian neighbourhood.
Transilien
Are you staying in Montparnasse? It's a spectacular neighbourhood, and its station (Paris-Montparnasse) connects in about 15 minutes to Versailles-Chantiers station on the N line of the Transilien. From there, you'll only have to walk about 20 minutes to the entrance of the Palace of Versailles, so if you're going to Paris with children, it might not be the best option.
If your hotel is near the Montmartre neighbourhood, from Paris Saint-Lazare station, the official website of the Real Madrid Transilien Line L leaves in about 30 minutes, but then you'll have to walk about 20 more to get to the entrance of Versailles.
Price: about 4€ (one way)
Travel time: about 50 minutes in total
Recommended if: you don't mind having to transfer or walk to and from the stations.
3. Getting to Versailles from Paris by shuttle bus
Want to go direct from Paris to Versailles? I have an option for you: the Versailles Express. It is indeed a fast option, as it goes from the Eiffel Tower to Versailles in about 30-40 minutes, but it is not very accessible. What do I mean? Besides the fact that it only has two departures from the Eiffel Tower per day, the price is rather high (around €25) and the service is only available from Tuesday to Sunday between January and October. So if you're travelling to Paris in winter, forget about this option.
Although the price is high, if you're staying near the Eiffel Tower, travelling to Paris in spring or travelling to Paris in summer and want to get straight to Versailles, with the comfort of a seated bus and no stops in between, consider the Versailles Express alternative.
Price: approximately €25
Journey time: around 30 minutes in total.
Recommended if: You want to skip the stops and go straight to Versailles from central Paris.
4. Getting to Versailles from Paris by public bus
If you want to go to Versailles by public bus, which is cheaper (about 3 euros), you can take the 171 bus. It takes about 30 minutes to get from Pont de Sèvres to the Place d'Armes de Versailles, right next to the entrance. It runs fairly frequently (every 10 minutes or so) and is available practically all day (from 6am to midnight).
Although you'll have to find a way to get to Pont de Sèvres station, the 171 bus is quite fast and you'll be able to see the scenery until the Palace of Versailles appears on the horizon to greet you.
Price: about €2 (one way)
Journey time: about 30 minutes in total
Recommended if: you are looking for a very economical option.
5. How to get to Versailles by taxi from Paris
Although not the cheapest option (it costs approximately 40-60€ each way), taking a taxi from Paris to Versailles is a good option if you are travelling in a group and want to get directly to the Palace in about half an hour, without waiting, intermediate stops or delays. Just make sure you take an official Paris taxi to avoid being ripped off.
If you're taking children to Versailles, a taxi is also a great option because they'll be safer and calmer thanks to the safety seats provided. Plus, you won't have to walk or transfer, as the taxi will pick you up and drop you off wherever you say it will.
Price: from €40 (one way)
Journey time: around 30 minutes
Recommended if: you are travelling in a group or with children.
6. How to get from Paris to Versailles by car
If you've decided to hire a car during your holiday to take a tour of France or go on different excursions from Paris, it's a great idea! For approximately 16€ per day you will have a car to move around Paris and take the opportunity to go to Versailles. However, bear in mind that you can only rent a car if you are at least 21 years old and have a driving licence for at least one year. Please note that if your driving licence is not issued by an EU country, you will need to apply for an international driving licence.
You can hire a car at the airport when you arrive in Paris or book it online beforehand, which I recommend so you don't have to rush. Also remember to check French road rules and tolls.
Once you have your rental car and are in Paris ready to head to Versailles, take the A13 motorway towards Rouen. Drive approximately 30 minutes until you reach the Versailles-Château exit and then it's time to find a parking space.
There are free car parks outside Versailles, but they are always full, and you'll have to walk to the entrance of the Palace. If that's the case, don't worry because there are several car parks within the grounds of Versailles that cost around €10 for four hours. I recommend you go to the one at Place des Armes, which is opposite the entrance.
Price: about 16€/day
Travel time: about 30 minutes
Recommended if: You have rented a car during your trip to France and want to go to Versailles with it.
7. We compare all the options for getting from Paris to Versailles
Organised tour
Price: from approx. 70€ (including transport and entrance fees)
Duration: around 50-60 minutes
Advantage: convenience
Disadvantage: if you like to travel on your own, this is not an option for you.
Train
Price: about €4 (one way)
Duration: about 50 minutes
Advantage: value for money
Disadvantage: Transfers or walking to get to stations are necessary
Shuttle bus
Price: approximately €25
Duration: approximately 30 minutes
Advantage: direct journey
Disadvantage: very expensive and not very accessible
Traditional bus
Price: about €2 (one day)
Duration: about 30 min
Advantage: fairly cheap price
Disadvantage: There is only one bus line that makes the journey.
Taxi
Price: around 40€-60€ (one way)
Duration: about 30 min
Advantage: you choose pick-up point and destination
Disadvantage: very high price
Rental car
Price: approx. 16€/day (without tolls)
Duration: about 30 minutes
Advantage: you can move around freely and without a timetable.
Disadvantage: it is not cost-effective to rent a car just to go to Versailles.
Have you finished organising your visit to Versailles? Getting there is the first step, so I hope my tips have helped you choose the best option.