Best Tours and Day Trips from Brussels
One of the things I like most about travelling to Brussels is how close it is to other places you can visit on a day trip.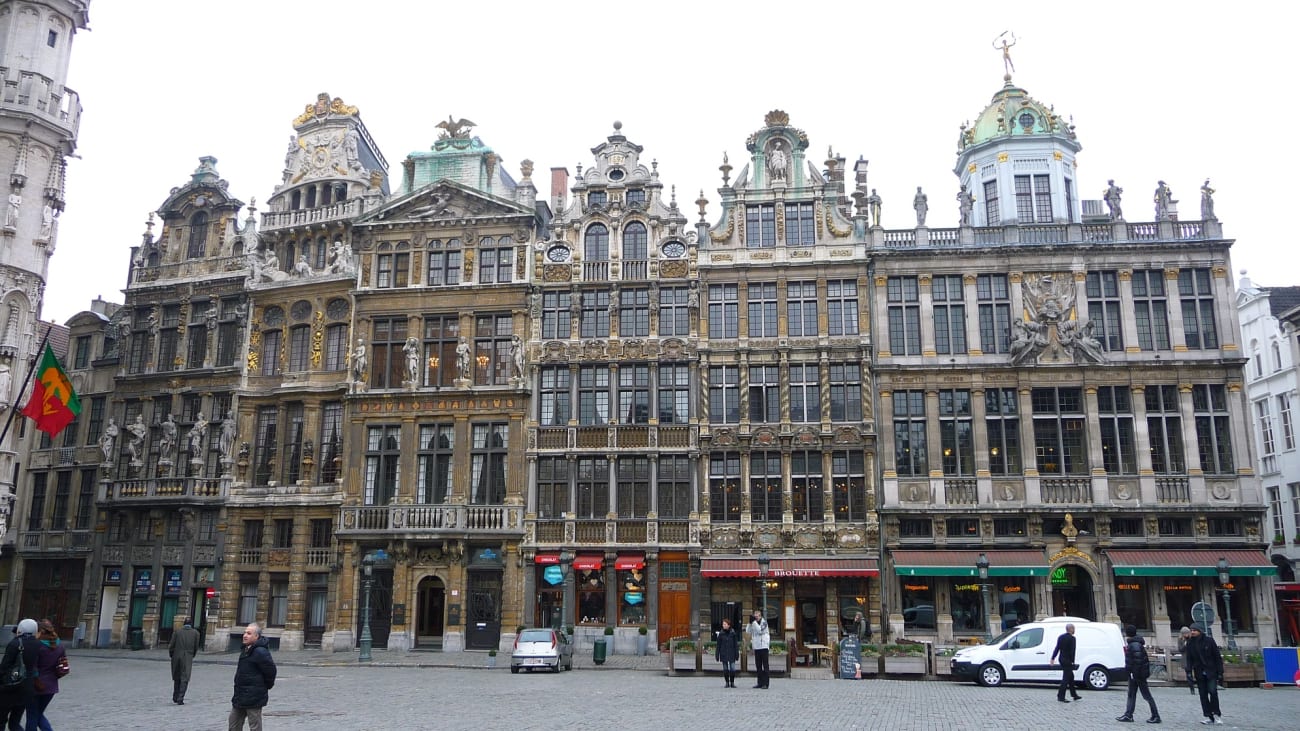 There are several must-do things to enjoy during a trip to Brussels: touring the city on a guided tour, tasting its chocolate and beer, and getting to know its surroundings. Here is my selection of the best experiences so you don't leave anything undone:
1. Guided tour of Brussels
The first thing to do when visiting a city for the first time is to explore every corner of it. However, if we do it individually, it is common that we miss many details and that there are monuments or places of interest that go unnoticed before the eyes of a tourist. To avoid this, the best option is to have someone local to guide you on your visit.
This guided tour of Brussels is one of the best options for getting to know the Belgian capital in depth. It is an excursion in a fully equipped vehicle with walking sections.
Interesting details
The tour departs several days a week and you can book your place online. Once your booking is confirmed you will receive an email with details of the meeting point and time to meet your guide. If your plans change, cancellation is available up to 24 hours before your scheduled tour time.
Why I like this tour
This experience is ideal for getting to know the city in depth in just half a day , saving you walking and enjoying commentary on its culture, history and customs.
Itinerary
The Great Market
The Royal Palace
The Atomium
The Manneken Pis statue
The historical centre
2. Beer tasting in Brussels
Who hasn't heard of Belgian beer? It is undoubtedly the most popular drink in Brussels and you can enjoy it in any bar in the city, but with a beer tasting organised by Brussels you will have the opportunity to be accompanied by a local guide through the most significant places in the city.
This experience is available in English, French and Spanish and lasts approximately two and a half hours. The feeling is very similar to going out for a beer with a friend who also knows all about the city and the production and importance of its star drink. During the tour you will taste three different types of beer and have a free drink.
Once you book your place on this tour online, you will meet your guide at a central point in the city and from there the tour will start, passing through some of the most central streets of the city.
Why I like this tour
This beer tasting tour is ideal if you already know the city and want to have a good time with expert guidance while tasting authentic Belgian beer.
Itinerary
Taste some of the best Belgian beers
Learn what sets Belgian beer apart from the rest
Join a group of travellers looking to have a good time
Get to know some of the capital's most significant beer bars
Learn about how beer is brewed in Belgium and its importance in the country's culture.
3. Chocolate tasting in Brussels
If the quintessential Belgian drink is beer, the most famous food is undoubtedly chocolate, and nowhere better than Brussels to taste it. In many cities there is a chocolate museum aimed at tourists, but the chocolate tour experience in Brussels is not comparable to the one you can have in any other city.
When I went on this tour, not only did I learn the theory of how chocolate is made, but I was able to see it being made live and even taste the raw materials from which it is made. With such a view, it is inevitable that you will have an irresistible desire to try it, and so we were taken to different patisseries in the city to taste different types of chocolate and the well-known Belgian waffle.
The tour starts from a central point in the centre of Brussels, lasts two hours and is available in English and Spanish. The tour is available in English and Spanish and can be booked online.
Why I like this experience
I recommend this experience if you are a chocolate lover (as I am) and are curious to learn more about how chocolate is made and the differences between the different types of chocolate.
4. Excursion to Antwerp
Brussels is a very accessible city; it has several things to see, but all of them are close and that makes it possible to see it in one or two days. Does that mean that your trip is over? Not at all! My recommendation is that, in order to make some excursions to nearby cities, you should extend your stay in the Belgian capital for a few more days. An excursion to Antwerp, for example, seems to me to be a must to complete your trip to Belgium.
Antwerp is one of the most important cities in Belgium and is located about an hour's drive from Brussels. With this organised tour you will be in Antwerp for about five hours with a guide who speaks English, Spanish or French.
Why I like this tour
I recommend this tour if you want to see more during your trip and want to leave other bigger cities for a separate trip. Antwerp is the perfect size for a day trip.
Itinerary
The Cathedral of Our Lady
The Stroom Museum
The Jewish Quarter
The railway station, considered one of the most beautiful in the world.
The 13th century Steen Castle
The Italian Renaissance town hall
5. Excursion to Bruges
Of course, there is Bruges. That fairytale corner that will become a thorn in your side if you miss it during your trip. This small city, called the cradle of the Western Renaissance, is almost as popular as Brussels itself and a tourist and cultural attraction in its own right. With this tour to Bruges from Brussels you can spend a whole day in Bruges and, thanks to the services of your accompanying guide, you won't miss a single corner of the city.
First the details: you can do it in English or Spanish and it includes the services of an expert guide and train tickets to Bruges. The train journey is much faster than the road trip, taking just an hour and a quarter to get to Bruges. Once there, in addition to the guided tour, you will also have time to explore the city at your leisure before returning to Brussels.
Why I like this tour
This tour is a must for anyone who has never been to Bruges and wants to visit it with a guide who will give you the historical and cultural context of the city.
What you will see in Bruges
The Town Hall tower and the Grand Place
The central market square, preceded by beautiful views of the canals and narrow streets of the city that they call "The Venice of the North".
St Saviour's Cathedral, destroyed by fire and later rebuilt
The medieval city tower, shrouded in mystery, the origin of which your guide will tell you.
Burg square, one of the first inhabited places in the city
the Basilica of the Holy Blood, which houses a venerated biblical relic
The Church of Our Lady, the second tallest brick tower in the world
6. Day trip to Bruges and Ghent
If you want to make the most of your time, you can visit Bruges and Ghent in one day, departing from Brussels. This tour is designed for those who are short on time and don't want to miss these two wonderful cities near Brussels. The trip in a private vehicle and the services of an expert guide will allow you to make the most of your time.
You can book this tour online and choose between an English, French or Spanish speaking guide and transport is included (lunch is on your own, you can bring a picnic or eat in one of the two cities during your free time at lunchtime).
Itinerary
The first stop will be Ghent where you will see the cathedral of St. Bavon with its mythical painting of the Mystic Lamb, the historic centre, the castle of the Counts of Flanders, the port of Graslei or the church of St. Nicholas.
Then it is the turn of Bruges, known as the "Venice of the North" for its architecture and the charm of its canals. The guide will give you an insight into the history and culture of the two cities.
Why I like this tour
This tour suits you if you are someone who wants to see as many places as possible during your trip and you like to see them while making the most of your time and learning about their history and culture without being superficial.
7. Excursion to Amsterdam
The Dutch capital is located about two and a half hours by road from Brussels. It goes without saying that Amsterdam is worth a trip in itself to soak up the city and get to know it in detail. However, if you want to revisit the city or get a first taste of it, you can visit it with a day trip to Amsterdam from Brussels.
Amsterdam is a completely different scene from Brussels. While Brussels is a stately and regal city, Amsterdam is modern and carefree. The canals and the coffee houses are its main attraction, but not the only one.
This tour is available in English, Spanish or French. The best part is the local guide services as Amsterdam is a city with a subculture that grabs you and to really get a feel for it it is good to have someone with knowledge of the city to immerse you in its landmarks and meanings.
Why I like this tour
This tour is for you if you want to take advantage of your visit to Brussels for a quick look at the Dutch capital with the aim of completing your trip another time.
What you will see in Amsterdam
Damplein Square and the Liberation Monument
Anne Frank's house
Heineken Brewery
The Royal Palace
The windmills
The Red Light District
8. A popular activity to read more about: the Bruges tour
Visiting Bruges is one of the most sought after experiences for people travelling to this area of the world, and it's something I highly recommend as its medieval European charm is something that is unlikely to fade from your memory. I have written a dedicated article about this tour with everything you need to know before going to Bruges from Brussels, and you can read it here: Bruges Day Trips from Brussels.