10 Things to Do in Brussels in December
Are you planning your itinerary and want to know absolutely everything before deciding which places to visit? If you are lucky enough to be going to Brussels in December, join me in this article to make sure you don't miss a thing!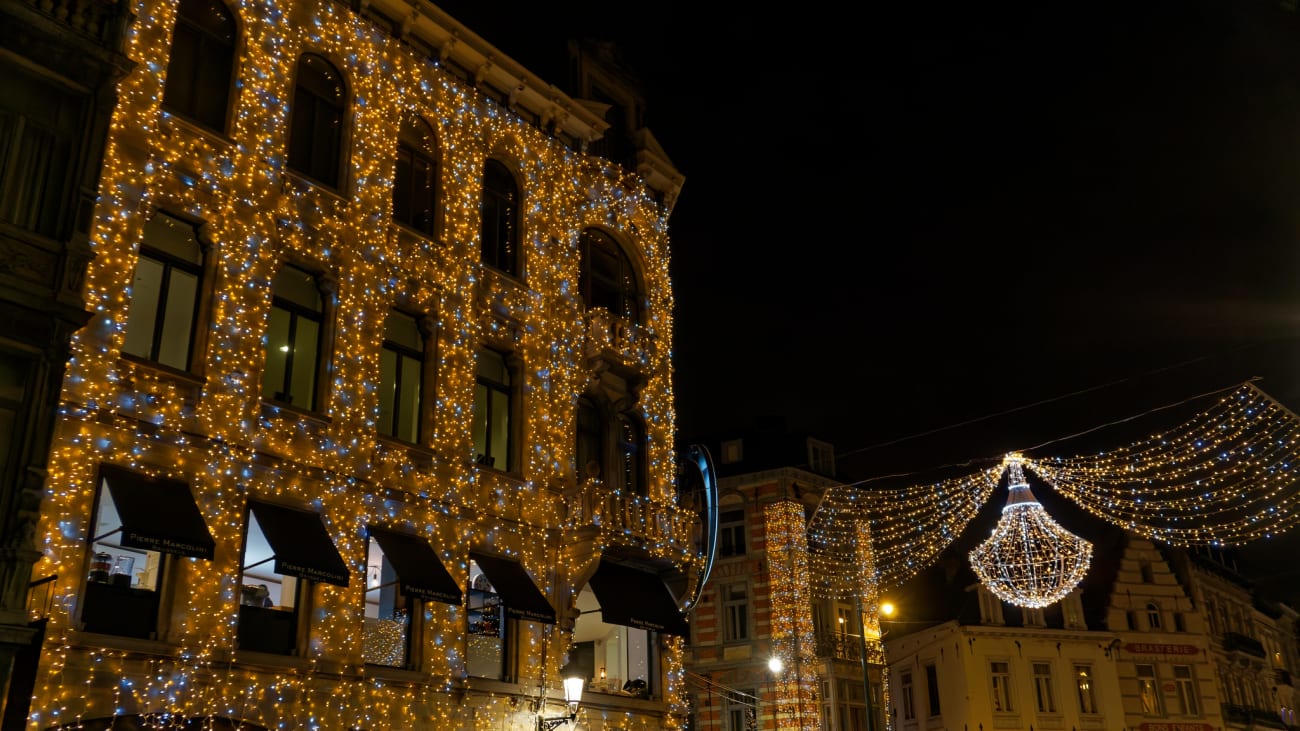 Although the city of Brussels does not have the Christmas reputation of other European capitals, December is a busy month with a lot to offer. The arrival of the winter holidays completely changes the atmosphere and the essence of the city. There are activities and events that you can attend that will undoubtedly change your holiday.
You may not find the typical snowy landscape when you walk through the streets, but that doesn't mean that travelling to Brussels in December is not worthwhile. In addition to the usual things to see and do in Brussels, here's a list of the month's characteristic activities to give you a taste of what's going on in this all-encompassing city.
1. Escape the cold and pay a visit to the museum
If you want to take a little shelter from the cold temperatures, enjoying an exhibition can be a great idea. Brussels is a great city with an interesting offer of museums and activities where you will always learn something new. It is important to find out which are the best museums to visit in Brussels and choose the ones that capture your curiosity the most.
One of the famous and must-see Brussels museums is the Atomium, a 102-metre high structure built for the Brussels General Exhibition back in 1958. It is a very famous site among tourists as well as locals, which is why I recommend you to book your Atomium tickets well in advance.
2. Discover the Christmas market on the Grand Place
In the month of December, an event called Winter Pleasures (Plaisirs d'Hiver in French) has been held in the city of Brussels for the past two decades.
As part of this event, a Christmas market of some 225 stalls is set up, which they call chalets. These chalets are distributed in different locations in the city centre and it is up to you to find and visit them all.
But if you are not very good at search games, here are some useful facts. From around the Bourse, the Belgian stock exchange building, to the Marché aux Poissons, via Place de Brouckère and even around the Grand Place, you can find stalls of this gigantic market.
You can take advantage of one of the best tours of Brussels to visit some of these places while discovering the market.
3. Escape from the city and discover Christmas in other villages
Besides Brussels, there are other cities in Belgium that have amazing Christmas markets in December, and it's a fun plan to get to know them all, or at least some of them. Here is a list of the most important and attractive ones for you to consider.
Bruges
If this city normally feels like something out of a fairy tale, imagine visiting it in the spirit of Christmas. You must visit the Grote Markt, its main square, where you will also find the most important market in the whole city.
The scenery is particularly beautiful because you will find yourself surrounded by medieval houses from the 13th century, in the Gothic style characteristic of this period. The jewel of the square is the Belfort bell tower, which you will be able to distinguish very quickly because of its particular beauty.
Hasselt
The Hasselt Christmas market is located about an hour and a half from Brussels. Here you can not only enjoy the Christmas spirit and shopping, but also an ice-skating rinkand Father Christmas' house! Don't forget to bring your letter so that this Christmas, Santa brings you exactly what you want.
Liège
Liège is recognised as Belgium's oldest Christmas town. In fact, when you talk about Christmas Village, everyone will know you're referring to this city and the country's largest Christmas market.
Antwerp
Antwerp is another of Belgium's major cities, but its winter look will grab you like no other. Antwerp takes Christmas seriously and its specially prepared market is spread across several squares with more than 100 stalls selling handicrafts and typical Belgian food.
You can also go ice skating and enjoy their light shows. As you can see, this event has it all.
Ghent
Last but not least is Ghent's Christmas market, characterised by the little wooden houses that run from the Sint-Baafsplein to the end of the Korenmarkt. When the Christmas atmosphere fills the city, many people make this visit, as it becomes a worthwhile attraction.
You can take home a souvenir made by the hands of a local craftsman. And don't forget to see one of the city's most iconic sites, the Castle of the Counts of Flanders, fully illuminated.
4. Stroll through the illuminated streets of Brussels By Lights
During the Christmas season, Brussels becomes a completely different city. This new face of the city is due to the Brussels By Lights festival, which colours the city in colour and lights during this cold but festive season. Since 2014, and since then without a break, around 150 light installations have been set up, creating an atmosphere straight out of a "Home Alone" movie.
But it is not only an initiative of this company that organises different events. The owners of all the shops in the city are involved in deciding which lights to put up where. Did you know that?
5. Attend the Christmas sound and light shows
In addition to the markets and decorations, you can't miss the sound and light shows that take place around the Plaisirs d'Hiver festival in the Grand Place, whose theme is always changing from year to year. If you want to find out about this year's theme, check out the festival's official website.
Opening hours: every day in December, except 24 and 31 December. From 17hs to 22hs. From Monday to Thursday, every hour and from Friday to Sunday, every 30 minutes.
6. Have fun on the ice skating rinks
During this month, you can also enjoy the 800m2 ice rink located in the Place de la Monnaie. This is the activity of choice for families who want to have fun during the Christmas holidays, whether or not they have any previous ice skating experience.
Children will be able to skate on a portion of the rink reserved only for the little ones, so don't worry because the environment is very safe for them.
Interesting facts
Opening hours: from 12hs to 22hs every day. On 24 and 31 December it closes at 6pm.
Location: Place de la Monnaie
Admission: 10€ for over 16s and 5€ for under 16s.
Skate and boot rentals available.
7. Don't miss the show on the façade of the Church of Sainte Catherine
Another big event in December is the special illumination of the façade of the church of Sainte Catherine. Many people gather on this square to see this work of light where we are transported into the universe at large. The projections are related to the Milky Way, the constellations and the planets.
Interesting facts
Opening hours: every day in December from 5pm to 10pm.
Location: Place Sainte Catherine
8. Choose your favourite beer at the Christmas Beer Festival
If you want to have the chance to choose from a list of 170 Belgian beers and try the one you like best, this is the perfect occasion for you. Belgian beers are recognised as the best in the world and if you attend the Heuvelhal Festival you can enjoy all the varieties as often as you like.
This two-day beer festival is usually attended by more than 3,000 people who want to drink beer and have fun. Of course, it's not just an event attended by locals, so you'll feel like you're in a completely international atmosphere. It takes place the weekend before Christmas Day.
Interesting facts
Location: 7 Chapel Street 2910 ESSEN
Admission: €25
9. Have your photo taken with the tree on the Grand Place
The Grand Place square in Brussels is a favourite place for many travellers in Brussels and even in Belgium. It is famous for being a favourite meeting place for all Belgians and for being one of the must-see places in the city centre. Of course, when Christmas comes, it becomes even more special when the decorations and lights take over the whole square.
The giant tree takes all the prizes, as it is illuminated and decorated in such a way that you can't help but turn your head to look at it, wherever you are. There's also a nativity scene for a complete Christmas experience.
10. Taste the gastronomy at the Christmas market
The markets are a perfect combination of popular traditions and modern atmosphere. Not only can you find guaranteed fun, lots of activities and events, but you can also eat and drink local homemade products of the highest quality.
But if you're a bit confused and don't know what to choose, here's a list of the must-visits you can find in the 225 stalls scattered in different areas of the city centre: Bourse, Place de la Monnaie, Place de Brouckère, La Tour Noire, Place du Marché aux Poissons. Will you join me?
Mulled wine: you might judge it by the name, and be a little wary of the taste. Mulled wine is a custom characteristic of Belgian culture and I advise you not to leave the market without trying it. It is originally from Germany but many central European countries have adopted it as their own. Mulled wine will be your perfect ally to warm up your body during these cold days of walking, and you'll be sure to come back for more!
Speculoos: these are originally Christmas biscuits, but nowadays you can also get them the rest of the year in some places. But of course they are even more delicious in the festive atmosphere.
Smoutebollen: originally from the Netherlands, but the Belgians liked it so much that they included it in their culture as well. This sweet consists of little balls of flour dough that are fried in plenty of oil. High in calories and very, very tasty.
Bûche de Noël: this is the dessert par excellence in all Belgian homes during the winter and the great choice to share at the Christmas table with the whole family. Be part of this tradition.
The weather and what to bring to Brussels in December
The weather in Brussels in December has temperatures ranging from 3°C to 6°C degrees. As you can see, it is a really cold winter. Rainy days are around 15 to 20 throughout the month of December, so you will almost certainly experience grey days.
But don't worry. Just remember to have a jacket to keep you dry on wet days and take enough warm clothes to be able to walk around without suffering from the low temperatures. Brussels is waiting for you!
If you liked this article you might be interested in
Don't miss the post on 10 things to see and do in the centre of Brussels and 10 things to see and do in Brussels at Christmas to get more ideas and make the most of your visit.
If you are looking to see a bit more of Belgium on your visit to Brussels, don't hesitate to check out the best tours and excursions from Brussels.