Bruges Day Trips from Brussels
Visiting Bruges is like being immersed in a fairy tale: here are the best options for visiting the city from Brussels.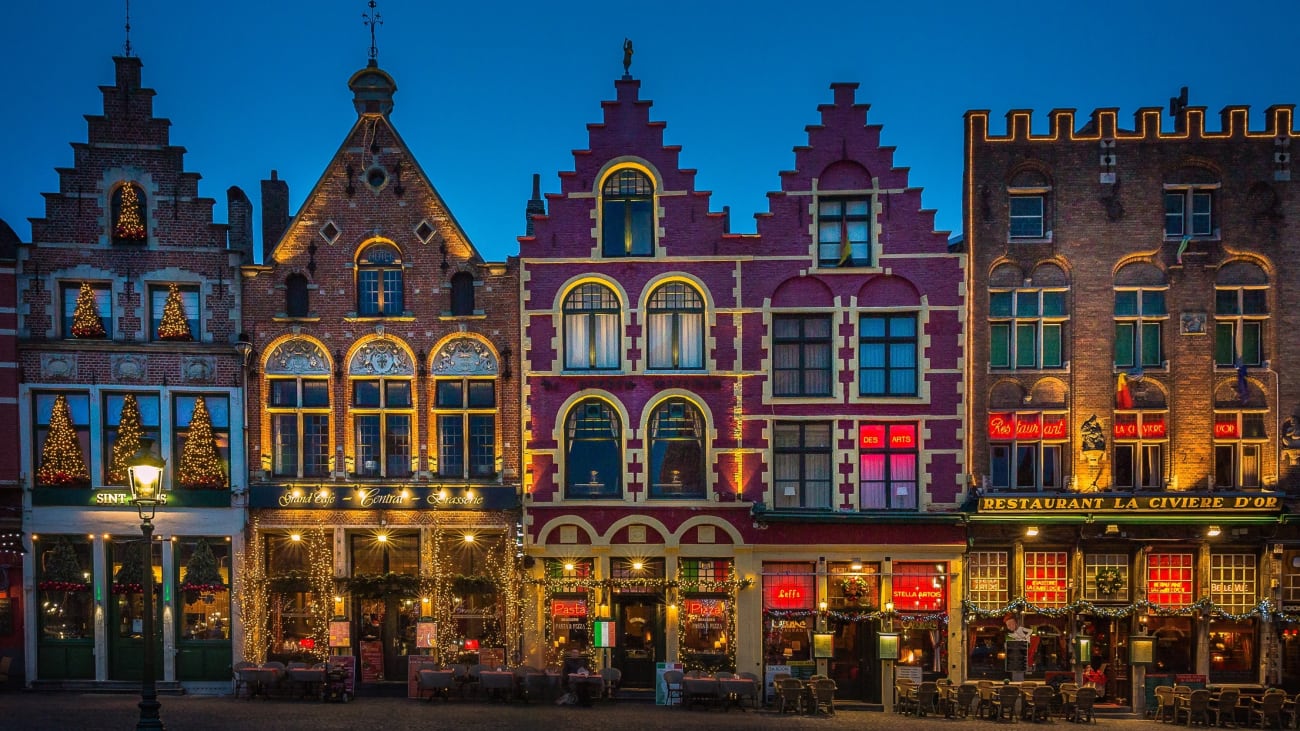 Bruges is even more famous than the Belgian capital. Every year, this small town in Flanders receives 3 million visitors and is the most visited city in the country.
The reasons: its canals, its cobbled streets, its medieval buildings and a charm that is difficult to describe in words.
The best option
Discover Bruges on a private tour
Visit Bruges with an expert historical guide and discover iconic sights such as the Lake of Love, the Grote Markt square or the Gruuthuse Museum. Enjoy a full day of sightseeing and sightseeing in this dream city.
Bruges is a city that you will fall in love with just by looking at it, but if you also take a guided tour of Bruges from Brussels in a small group, you will get to know its most important corners, its history and its legends. The experience is far superior to visiting Bruges on your own.
You will be accompanied by a professional guide, but you will have free time to explore the city at your own pace. You will be able to visit the Grote Markt, St John's Hospital, the Rosary Quay and the famous Minnewater Lake, among other key points of the city.
Why I recommend this tour: This is one of the best value for money tours to Bruges from Brussels. You'll come back having seen the city in depth and you'll be able to do it without rushing, balancing free time with guided tours.
---
The most complete option
Visit the best of Bruges and Ghent in one day
The perfect tour to get to know the beauty of Bruges and take advantage of the day to visit Ghent. You will be accompanied by an expert guide but you will also have some free time.
For those who like to make the most of their time and come back from their trip having seen as many places as possible, it's popular to combine a trip to Bruges with a visit to Ghent
Ghent is a city located 20 minutes from Bruges and often overlooked by the fame of the former. However, there is a lot to see. It is known as a university city with a lively cultural life and has nothing to envy to Bruges in terms of aesthetics. The tour is led by a professional guide who is an expert in history and who will tell you all about the two most important cities in the region.
In Ghent, as well as touring the historic city centre, you will see places such as: the Cathedral of St. Bavon, the Castle of the Counts of Flanders and the Church of St. Nicholas, among others. And in Bruges, it will take you to the most outstanding monuments of the city (Bruges Cathedral and Basilica of the Holy Blood, the Lake of Love, Burg Square...) giving you time to explore the historic centre at your own pace before returning to Brussels.
Why I recommend this tour: If you are only in Brussels for a few days and want to see more of Belgium without having to do a tour of the country, this tour is the best option for you.
---
How much does a tour to Bruges from Brussels cost?
Prices vary depending on the duration or what is included, but you can find a day trip to Bruges from Brussels for 45 ¤ in Hellotickets. This tour lasts a full day and in addition to Bruges, it will also take you to see Ghent.
Considering how much it would cost to visit the city on your own, paying for transport and hiring a guide to take you on a city tour, the price is more than reasonable.
I have written an article on the price of Bruges tours from Brussels where you can compare the costs of joining an organised tour compared to the price of visiting Brussels on your own by train, bus or rental car.
How long does it take to get to Bruges from Brussels?
It takes about an hour and a half by road. Guided tours usually use either a regular bus or a minibus, depending on the number of people on the tour, so the preferred mode of transport is usually by road.
The convenience of travelling by bus is that many of the tours include a stop in Ghent before or after visiting Bruges (Ghent is about an hour from Bruges and does not involve a major detour from Brussels).
Best time to tour Bruges from Brussels
On weekends and public holidays the city is full of tourists. If you can make it during the week, you'll also find an influx of visitors (it is, after all, the most visited city in Belgium), but less so.
If you go to Bruges in winter you'll be cold, so take warm clothes to keep you warm. The advantage of travelling to Bruges in winter is that you'll find far fewer travellers than in high season.
However, if you prefer a mild climate for visiting the charming city of Bruges, I recommend spring and autumn. In summer it can get quite hot, although it's not too common to find very high temperatures (unless you get caught in a heatwave).
How long the Bruges tours last
They usually last one day and although you could spend much longer in Bruges, one day will be enough to get to know the city well. The journey from Brussels is a short one, which will allow you to make the most of the day.
You'll see the most important monuments and squares, and you'll have free time to stop for lunch and enjoy the city's restaurants and narrow streets. Some tours even include a visit to Ghent, which is a very good option if you don't have much time during your trip to Brussels.
If you are still not sure how much time you want to spend in the city, you can take a look at my article on the duration of the tours to Bruges to help you organise yourself better.
Is Ghent worth a visit during your trip to Brussels?
Of course it is. Both cities are less than an hour away from each other and Brussels, making them the perfect triangle for your trip in Belgium.
Ghent's city centre is quite manageable and almost all of its sights are relatively close, making it easy to get around in a few hours.
Most tours to Bruges round off the day with a stop to discover the best of Ghent. If you want to find out more about this option to see if it's worthwhile or not, I've written a guide on Visiting Ghent on your Bruges tour. Check it out!
Visiting Bruges with children
Visiting Bruges with children on an excursion from Brussels is a great idea, especially if you do it on an organised tour where you don't have to worry about having to arrange everything on your own.
In general, the distance from Brussels is not very long, so the journey is pleasant and not too tiring for the little ones. Once in Bruges, its cobbled streets, fairytale houses and canals will make them feel like they are in a Disney film. They will love it.
Make sure you take them prepared for the cold if you go in winter, although the temperatures are not much different from Brussels, you might feel the dampness more. Otherwise, get ready to enjoy Brussels with the whole family!
Where (and what) to eat and drink on your trip to Bruges
As a good Belgian city, Bruges is full of places offering locals and visitors all kinds of traditional delicacies: its famous craft beers, its exquisite chocolates and waffles, incredible meats, fish and mussels served with chips, homemade soups...
The great thing about going to Bruges on an organised tour is that as well as having free time to wander around the city at your leisure, you can choose what and how you want to eat there.
I've put together a handy little guide to places to eat in Bruges so you don't have to worry about a thing.
How to get to Bruges
If you are thinking of organising a trip to Bruges, either on your own or on an organised tour, in this article I have detailed for you how to get to Bruges from Brussels.
By train
Trains to Bruges run approximately every 15 minutes throughout the day from the three Brussels train stations (Midi or Sud, Nord and Central). Each journey costs around 16 euros and you don't need a reservation, so I recommend you see the city at your own pace and simply head back to the station and return to Brussels when you're satisfied with your visit.
By Bus
The bus takes longer than the train (around an hour and a half) and has fewer departures during the day, but if you want to save money, tickets are available from 6 euros each way.
By hire car
If you prefer to be independent and move around at your own pace and you've hired a car for your stay in Brussels, you won't have any difficulty getting to Bruges. As the most visited city in the country, Bruges is well signposted by road, especially if you're travelling from the capital.
What to see in Bruges
All tours cover the main sights of the city to make sure you don't miss anything important during your visit to the "Venice of the North". But if you have time to explore at your own pace, don't miss the following monuments and sights:
The Main Square
Known as the Grote Markt, this is the heart of the city. In the centre you will find a statue dedicated to local heroes and also the famous Belfort bell tower. Take time to wander around, take pictures and explore some of the restaurants, although the latter are admittedly very tourist-oriented.
Burg Square
This is where you'll find the Town Hall, the Palace of Justice and the Basilica of the Holy Blood. It is also one of the busiest places in the city.
The Basilica of the Holy Blood
It owes its name to the fact that it is said to contain drops of the blood of Christ. You can visit it every day from 9:30am to 12:00pm and from 2:00pm to 5:00pm, but make sure that no ceremonies are taking place before you go.
The Lake of Love
This is one of the most popular canal areas. You can access it if you take a boat trip, which is recommended at least once for the experience. A half-hour ride along the canals can cost around 8 euros.
St Saviour's Cathedral
The oldest church in Bruges, it has a 100-metre high 12th century tower and houses various works of art. All are open daily, but opening hours vary depending on the time of year and day of the week.
The Church of Our Lady
Known for its marble Madonna by Michelangelo. It is a Gothic-style building that is closed to the public on Mondays.
Practical tips for your visit to Bruges from Brussels in one day
You'll have plenty of time
The first time I went to Bruges I only had one day to see the whole city and that meant that I was rushing from one place to another without enjoying it as much as I deserved. I had plenty of time.
The historic centre of Bruges is manageable to visit in one day, so don't get overwhelmed and walk around at your leisure. If you go by train, remember that there is a continuous timetable, so you don't have to worry about finishing your visit at a certain time.
Lose yourself in its narrow streets
Few cities have as much charm as Bruges. Once you've seen the main sights, I recommend wandering the streets and canals in search of magical spots; you're sure to find them. Don't leave behind the chocolate shops, which are carefully tended.
Watch the sunset at the Rosary Quay
This is one of the best places in the city to do so. If you're staying the night, you'll discover a different kind of city with plenty of nightlife, but in that case book ahead in restaurants or hotels.
If you are interested in a trip to Bruges from Brussels, you will also be interested in
The Bruges excursion is undoubtedly the most popular excursion you can take during your trip to Brussels, but it is not the only one. In this article on the best excursions from Brussels and tours of the city you will find many more options including visits to nearby cities such as Antwerp or Amsterdam.
You will also find experiences to do without leaving Brussels such as beer or chocolate tastings and walking tours of the city.